Tim Armstrong took over AOL in March of 2009, during the final days of its ill-fated merger with Time Warner Inc. The company was spun off less than 10 months later into its own company.
Under Armstrong, the company bought the Huffington Post for $315 million, along with other publications that combined to reach 190 million people in the first quarter of 2015. It became a significant player in advertising technology.
In short, Armstrong built a fairly large media and technology company that's less dependent on its aging internet service customers and portal (though it still provides dial-up internet to more than 2 million Americans). But his tenure has also come with its share of missteps.
He was a founder of and longtime champion of Patch, an ambitious digital local news service that can only be described as a pretty massive failure (paywall). His comments on how health care spending on employees' "distressed babies" prompted cuts to workers' retirement benefits provoked outrage. And he once publicly fired an employee mid-meeting in front of 1,000 people.
The company has survived, but it hasn't exactly thrived. Though the stock is up almost 80% since it was spun off from Time Warner in late 2009, the company has underperformed the S&P 500: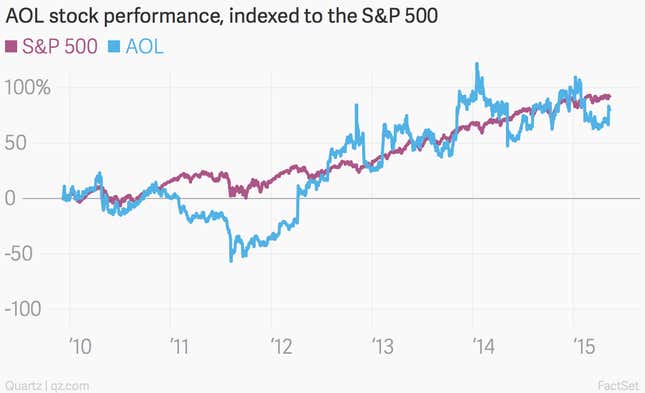 It has also substantially underperformed its competitors in the ad tech and digital content space: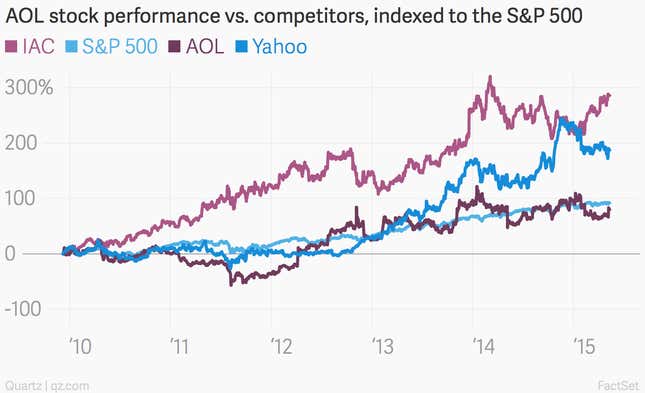 Armstrong's previous job was a big role at a very large company (head of sales at Google). He's going to have to learn how to work within an organization instead of calling all the shots once again.