If you were to explain Verizon's $4.4 billion deal to acquire AOL in one word, it would be: mobile.
The modern smartphone, epitomized by Apple's iPhone, has changed the world—and Verizon's business model—and its popularity speaks for itself. Here is a chart that compares:
iPhone owners, most of whom are subscribers to a 4G mobile internet plan, as measured by comScore,
AOL's slow-speed dialup service—the way many Americans first got online 20 years ago,
and Netflix's US subscriber base.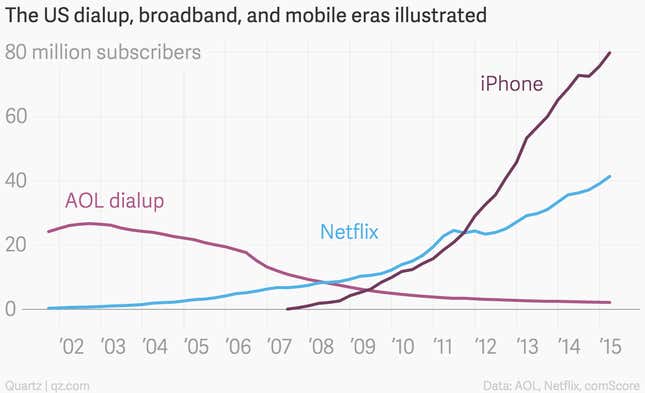 If you were to add a second word to explain today's deal, it would be: video. Mobile video is finally exploding after a decade of winding up.
Verizon, of course, already knows this: its 100+ million mobile phone subscribers are watching a lot of it. Growth in smartphones with fast, 4G connections is driving "increased data and video usage," the company said during its first-quarter earnings call (pdf) in April. Customers using its newer plans with shared data pools increased their data consumption by 54% year-over-year.
Video is driving this growth and will continue to do so, according to Cisco, which expects global mobile video traffic to grow to more than 17 exabytes—or million terabytes—per month by 2019, up about 10 times from 1.4 exabytes per month last year. (It's worth noting that Cisco is hardly an unbiased observer: the company sells networking equipment to phone companies and stands to benefit from higher usage.)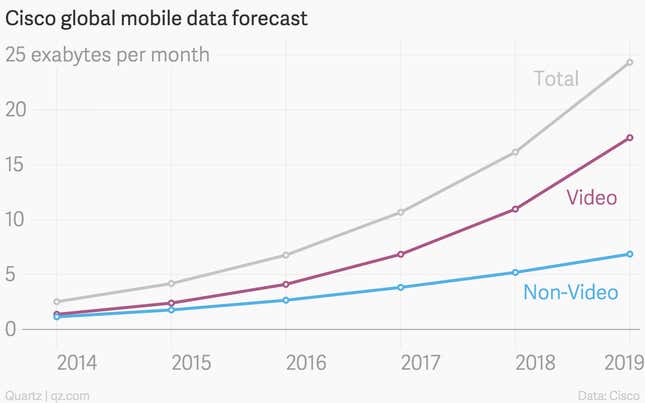 The big idea: with AOL's assets—advertising technology, distribution, and content—Verizon won't just be a "dumb pipe" delivering streams to some Americans' handsets. It will play a bigger, broader role in the global mobile ecosystem.
Verizon's CFO Fran Shammo admitted as much on the company's last earnings call. When asked about increased competition—and lower industry pricing—around mobile data, Shammo said:
The key to this is to develop these other ecosystems to create more monetization around customer usage, whether that's premium subscription, pay-per-view, or advertising models. And that is really what we are concentrating on.
Now Verizon has an entire new toolkit in AOL.
Photo credit: Anthony Quintano via Flickr, reproduced under a creative commons license.