Yesterday, Skype removed the sign-in requirement for its futuristic, Star Trek-esque real-time translator, and made it available for the general public.
The app is basically like having your very own United Nations translator at your side. It can translate both voice-to-text and text-to-text instantaneously. The only spoken languages currently available are English, Spanish, Italian, and Mandarin, though it supports 50 languages in text and is certain to add more in the near future. In a statement, the company says it wants to translate "in as many languages as possible."
For now, you can only download it via the Windows store. Microsoft, which owns Skype, likely wants to identify any remaining bugs before making the app available on other platforms.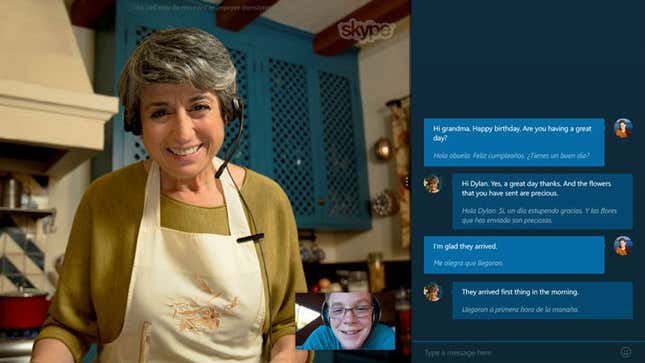 The translator has an untold number of applications, but should prove especially useful for businesses that operate across multiple countries and languages.
Other similar technologies already exist, but Skype's is primed to be the best in the field, and certainly the most ubiquitous. Earlier this year, Google updated its Translate app (with new technology from Word Lens, a company it bought in 2014) to essentially serve as a real-time translator wherever you go. But unlike Skype's translator, it doesn't mediate actual conversations between people in different languages.