This week Chuka Umunna launched a bid to become the leader of UK's second largest political body, the Labour party. The South London-born MP has been the shadow Business secretary for the past 3 years. In this time, he has cemented his status as a rising star of the party, so much so that his candidacy is said to be strongly supported by Labour's former Prime Minister, Tony Blair.
If prime minister David Cameron had lost the election and resigned his post as Conservative Party leader, it was expected that one of the main contenders would have been Adam Afriyie. It is therefore quite possible that these two gentlemen–sons of Nigerian and Ghanaian immigrants respectively—may yet find themselves on opposite sides of the British House of Commons' famous dispatch box at some time in the not too distant future.
Umunna and Afriyie are part of what is now a record number of African-origin Members of Parliament (MPs) in UK's elected House of Commons. Together, this bloc of 12 MPs would be the country's fourth largest political party. These members of parliament, who are mostly British-born second-generation chilldren of African immigrants, are Helen Grant, Chi Onwurah, Kate Osamor and Chuka Umunna (all of Nigerian origin – Grant and Umunna self-identify as being mixed race on account of having one white parent), and Adam Afriyie, Kwasi Kwarteng and Sam Gyimah (who are of Ghanaian origin). James Cleverly is of Sierra-Leonean origin. There are also four Asian-African Members of Parliament – Shamlesh Vara and Priti Patel (Ugandan), Paul Uppal (Kenyan) and Suella Fernandes (Kenyan/Mauritian).
African pride
The march of Africans into the house of Parliament is indicative of the demographic shifts in the British populace. In total, there are now 37 Members of Parliament who are identified as being from ethnic minority backgrounds (out of a total of 650, i.e. just under 6% – compared to 12% of the total population).  This is a steady increase since the first ethnic minority members of parliament were elected in 1987.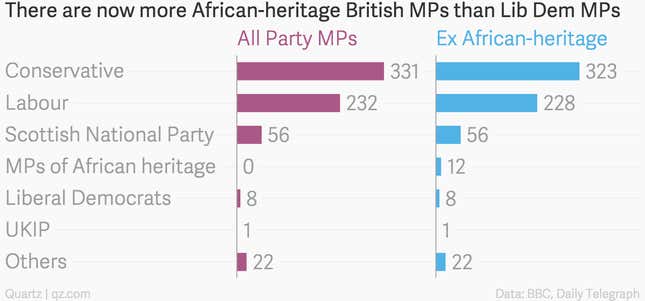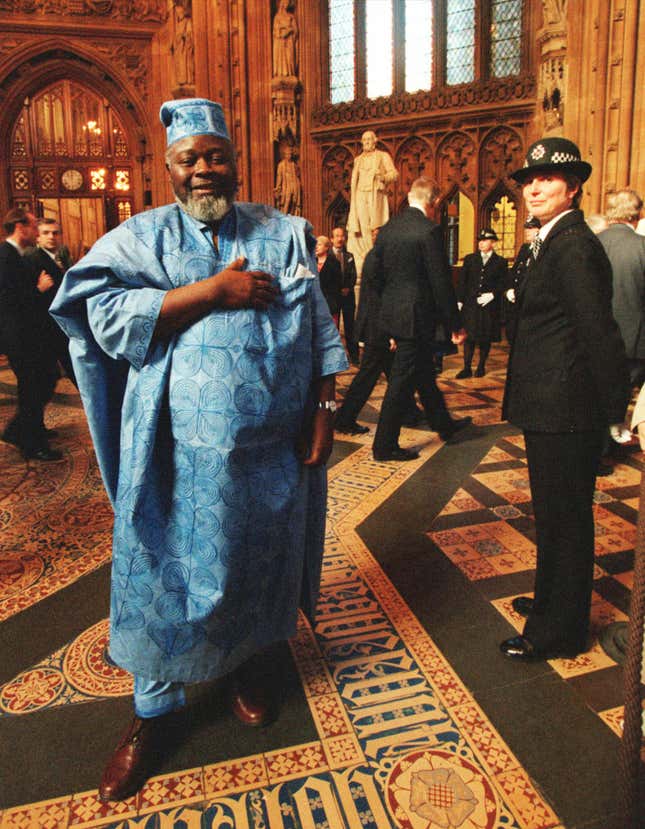 Back then, the famous four of Dianne Abbott, Paul Boateng, Bernie Grant and Keith Vaz, all of the Labour party's radical left wing, were trailblazers inmore ways than one. They wore their ethnic identity with pride: Guyanese-born Bernie Grant turned up for his inauguration as MP wearing the full West African 'agbada' of his ancestral homeland, Paul Boateng is of Ghanaian origin (and later went on to become Britain's high Commissioner in South Africa) and Diane Abbot was married to a Ghanaian. These MPs were very vocal in voicing their support for African causes in the House, and were instrumental, alongside others, in keeping the issue of South Africa in the forefront of Parliament's consciousness.
The steady increase in numbers of MPs of African origins since the 1997 election has been particularly striking, with the Conservative Party in particular having made most strides to increase its numbers, and ostensibly, through them to capture where possible, the increasingly valuable 'ethnic' vote. David Cameron's decision to appear at a major Nigerian church festival with nearly 50,000 attendees (swiftly followed by trips to a Sikh Gurdwara and Hindu Temple) seems vindicated as it is suspected that his party attracted a sizeable portion of the African vote. It is interesting to note that the Nigerian-origin MPs all belong to the opposition Labour Party, while all the others are from the governing Conservative Party.
Policy impact
It is uncertain that this increase in African-origin MPs will have anything but symbolic impact to African interests in Parliament. Unlike the 1987 group, the current cohort of African MPs seem to more naturally occupy the centre-ground (some a little to the left, others a little to the right, with the odd exception such as Priti Patel who is so right-wing she could comfortably wear David Beckham's number 7 shirt). In the last 5 years, only Adam Afriyie of them has raised any questions in the House of a specific African interest (he expressed an interest in the impact of UK aid in education on Sub-Saharan African children).
As the MPs belong to different parties, and are good party-apparatchiks, who see to want to minimize, rather than amplify, their ethnicity as a defining feature, it would be fanciful to expect them to work together.  It would however be quite impactful if their presence could see the emergence of a specific UK-African agenda with other interested MPs – given the historical ties that UK has to Africa, it is not difficult to see how this could be of immense mutual benefit.  That said the United States has had a president of direct African lineage for over six years and many argue Barack Obama has done little to benefit US-African policy.
Nevertheless, it is quite clear that with the African population being the fastest growing in the UK, there are soon bound to be even more African origin MPs in the world's oldest active democratic institution.