China is cutting down on its coal habit. In the first four months of 2015, the country consumed almost 8% less coal than in the same period a year earlier, according to a report by Greenpeace/Energydesk China.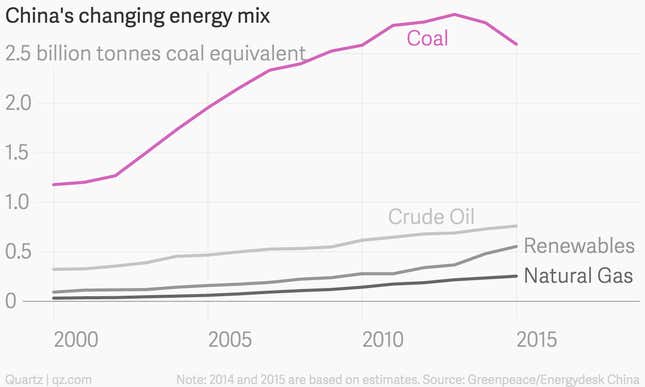 This means China's carbon dioxide (CO2) emissions fell by around 5% in the first four months of the year, according to the report. That's a lot—roughly equal to the volume of CO2 emissions spewed by the entire UK during that same period, as Greenpeace/Energydesk China notes. If the trend continues, China will close out 2015 with the biggest reduction in both coal use and CO2 every recorded by a single country, the environmental activist group says.
Already, the People's Republic's sputtering coal consumption, which began last year, seems to have put a big dent in global CO2 emissions. Those generated from energy use stopped growing in 2014, according to the International Energy Agency. The only other times this happened was in the early 1980s, 1992, and 2009—when the global economy has floundered, in other words. For a drop like this to come in the absence of a widespread economic slump is unprecedented.
What's behind the drop? Part of it is, of course, the Chinese economy's own sharp slowdown. Industrial production rose 5.9% in April, the smallest increase since the global financial crisis set in during late 2008. Coal production fell 7.4%, even as electricity output rose slightly.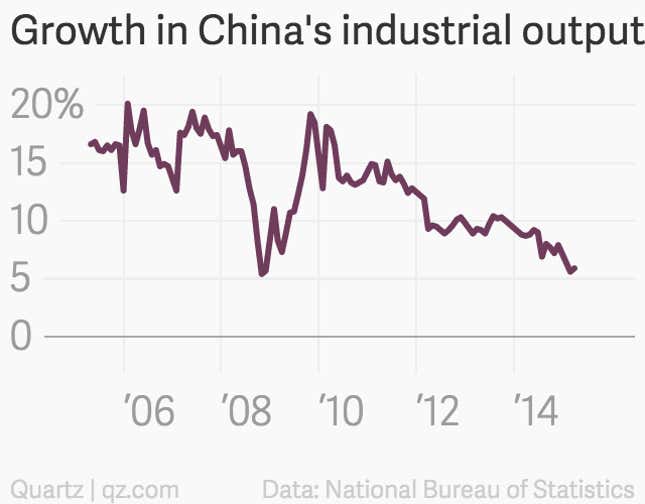 A related factor is that China still produces way more coal than it needs, thanks to the breakneck pace of the industry's expansion in the wake of the financial crisis, when the government made borrowing unusually cheap. Prices have fallen on the order of 20%.
And there's another important shift worth noting. Industrial giants aren't the only big users of coal; so are households and small factories, which burn coal for both energy and heat. The rising availability of electricity, and to a much lesser extent, natural gas, is helping wean these users off coal, too.
Ultimately, China plans to push coal's share of energy consumption under 62% by 2020. Greenpeace/Energydesk China's analysis suggests it's already close to this target.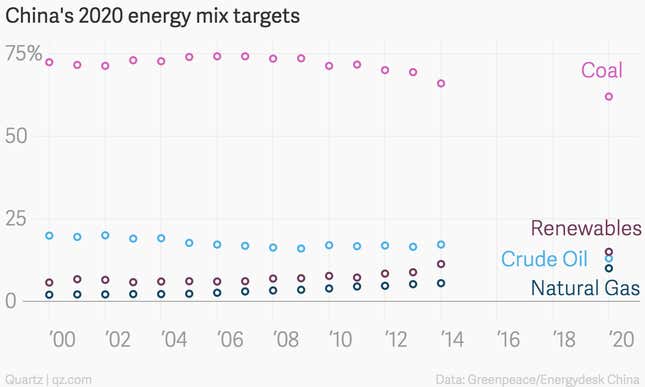 Hitting that coal target sounds like unambiguously great news for the warming atmosphere and acidifying oceans. But China's natural gas sources might not be as CO2-reducing as is often assumed. One possible domestic source of natural gas, synthetic natural gas (SNG), would reduce visible air pollution—the grey, soupy skies that are a source of popular outrage and, potentially, a threat to Communist Party stability. But SNG would likely spew out vastly more CO2 than coal-burning does.
This shift could also come with other new costs. Both SNG and expansion of China's shale industry could perilously strain water resources. China's dam-building bonanza has hidden risks, too. Reservoirs created by hyrdoelectric dams have been linked to upticks in seismic activity, including the 2008 earthquake in Sichuan, which killed 80,000 people. As China embraces new sources of power, a slew of priorities—diplomatic, political, environmental, social, economic—will finally start emerging from the coal-burning haze.