Don't say they didn't warn you. After unveiling somewhat lackluster quarterly results earlier this week, the beer giant SABMiller said an uptick of takeover activity in the brewing sector was, er, brewing.
London-based SABMiller drinks group approached its Dutch rival Heineken last year, but was rebuffed. The Anglo-South African company is also thought to be considering a full buyout of France's Castel, in which it already holds a minority stake. Meanwhile, rumors that Anheuser-Busch InBev could launch a mega-bid for SABMiller continue to swirl.
But the big beer news today is that SABMiller has reached no further than across the Thames for its latest acquisition. The company is taking over the Meantime Brewery Company, of Greenwich, for an undisclosed sum.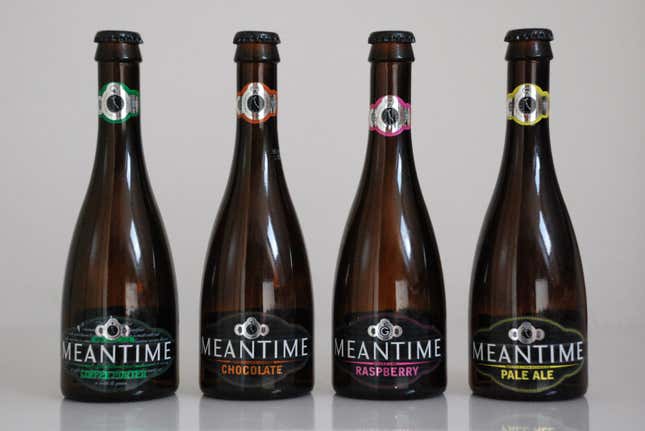 Meantime, a craft brewer founded in 1999 with a 10-beer line, will become part of SABMiller's portfolio of more than 200 brands, although the buyer stresses that Meantime will continue to be run more or less independently. It will also be charged with running a pilot brewery to serve as a test bed for "innovation and new product development" for the SABMiller group in Europe.
As in the US, craft beers are taking an ever-larger share of the British market from their mass-produced rivals. Meantime's sales rose by nearly 60% last year, versus only 1% growth for the UK beer market as a whole. And with craft beers accounting for around 7% of total beer sales in Britain, versus 11% in the US, there remains plenty of scope for growth. It's no wonder that SABMiller's shares jumped on news of the deal.
Sue Clark, SABMiller's European managing director, says that the purchase gives the group a foothold in the world of "modern crafts," where traditional brewing processes are married with the latest technologies to produce a broader variety of beers—not just ale, which dominates the UK's small-batch beer scene—with more consistent quality.
This might irk some traditionalists, who see the big brewers' incursions into craft territory as disingenuous—witness the recent class-action lawsuit against MillerCoors, a joint venture partly run by SABMiller, alleging the false advertising of Blue Moon as a craft beer.
But don't expect the blurring of boundaries between craft and mass-produced beers to slow any time soon—the staple brands of the big beer conglomerates simply aren't moving the needle anymore.
And there are plenty of targets out there for the big firms to consider, especially in the UK. Britain boasts more breweries per capita than almost any other country in the Western world.