Perhaps the most overlooked feature of the oft-challenged 'Africa Rising' narrative is that African businesses are growing in self-confidence and belief in their continental competition rather than looking to the West for validation. Even though global volume in African mergers and acquisitions (M&A) slowed down for the third consecutive year, the volume from African-led acquisitions is on course to hit record highs in 2015.
Specifically the volume of M&A deals focused in the region from outside investors (Africa-targeted) has gone down for the third year in a row in the reporting period, falling 16% year-on-year to its lowest point since 2004.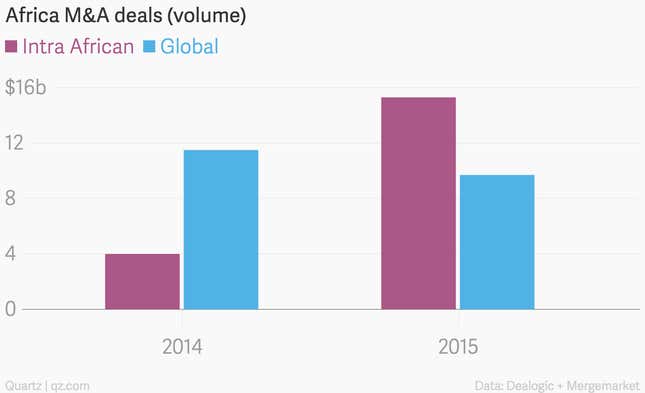 On the other hand, as Quartz has reported, African-led acquisitions are fueling regional M&A activity. And so far in 2015, deals by regional acquirors stands at $15.3 billion, only slightly below the 1998 high of $16.1 billion. The late 1990s saw a flurry of intra-regional M&A deals, as countries instituted reforms towards becoming more free-market economies. Telecoms and mining saw a lot of activity as once public-owned enterprises were sold to private investors (pdf).
Additionally, outbound M&A volume this year is over triple the amount in 2014 and it is the highest on record to date, Dealogic reports. The largest M&A deal by an Africa buyer this year comes from the South African investment house Brait, which is set to buy British retailer New Look for an estimated $3 billion, as per Reuters.