Let's be clear, the US economy suffered a catastrophic recession after the financial crisis. It hurt a lot of people. Many still haven't recovered. And many won't. Ever.
But there's a difference between economic growth and fairness—between overall prosperity and widespread well-being.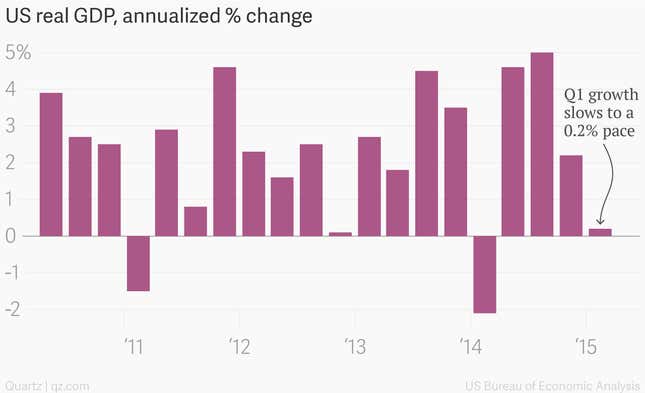 In other words, the US economy ain't perfect. But this economic supertanker is absolutely moving forward at a relatively healthy clip.
Economic blog Zero Hedge disagrees. In numerous blog posts, it has played up the dowdy first-quarter GDP reading.
True, the first-quarter numbers were ugly, with growth slowing to 0.2% annualized pace. But you should ignore that number, as there were serious weather-related disruptions.
For our money, the best high-frequency gauge of the strength of the US economy comes from weekly update on claims for unemployment insurance. They're currently hovering around 15-year lows.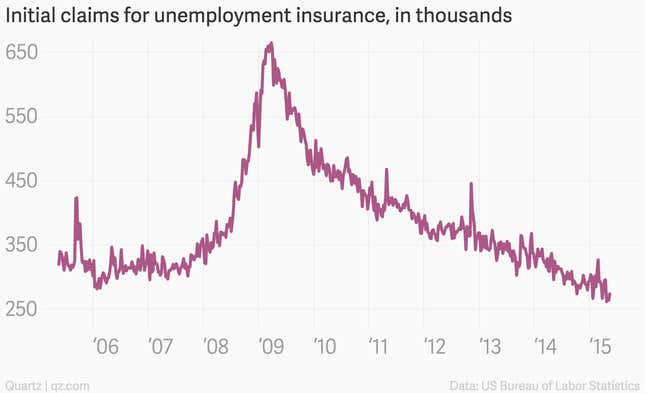 Put another way, that means the last time that unemployment benefit claims were this low was in early 2000, when the unemployment rate was hovering around 4%. Put still another way, that means that if the US economy is suffering a massive slowdown, no one thought to inform American employers.
But don't just take our word for it, analysts at Pantheon Macro, a consultancy, wrote in a note today: "If you are not expecting big payroll numbers over the next few months, you need a very good reason. We can't think of any."