Time Warner Cable shares hit their highest levels in more than five years on Friday, May 22.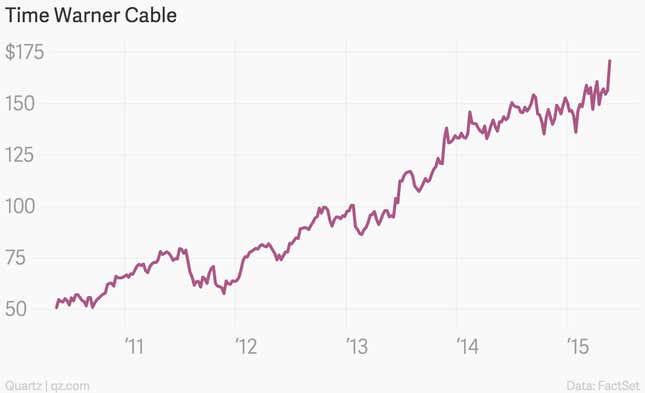 That's a surprise, given the company's plan to be taken over by Comcast only just recently fell apart. Right? Well, yes, in a sense. But the thinking on Wall Street has always been that someone else would swoop in to buy America's second-biggest cable company, which has a key presence in the country's two biggest cities, New York and Los Angeles.
The long-running favorite has been Charter Communications, a US cable company backed by media mogul John Malone, and reports suggest that it is in fact pulling together an offer. But there could be a new wildcard: a little known (in the US at least) French billionaire by the name of Patrick Drahi. On May 22, Reuters reported that Altice Group, of which Draghi is controlling shareholder, had been talking to banks "about a financing package to support a proposed acquisition" of Time Warner Cable.
Just last week, Altice Group acquired 70% of  Suddenlink Communications, a smaller cable operator with a presence mainly in Texas, West Virginia, Louisiana, Arkansas, and Arizona. The deal valued Suddenlink at $9.1 billion. The idea behind a Time Warner Cable acquisition, presumably, would be to combine it and Suddenlink and create a new force in the US cable market.
What's with French companies and US communications companies lately? Last year, rogue French operator Iliad launched an audacious bid for American carrier T-Mobile US, which is majority owned by Germany's Deutsche Telekom. It was rejected.
Perhaps it's a bit of a stretch to describe this as a French invasion of America's communications industry. Altice is headquartered in Luxembourg, after all. Drahi was born in Morocco and is based primarily in Geneva. But he was educated in France, and is a French citizen, while Altice's biggest asset is a 78% stake in Numericable-SFR, one of the country's biggest telecom companies. So we'll stick with it.