It's almost Memorial Day in the US, which marks the beginning of what can be the start of a long summer lull in activity on Wall Street. (This is where the old—and iffy—adage "sell in May and go away" came from.)
It's not an exclusively American phenomenon. Over in Europe, the absence of action in financial markets has been on the mind of policy makers at the European Central Bank.
The bank is in the midst of its a bond-buying program aimed at supporting economic activity there. But buying bonds can be tough if all the traders that usually sell them are on vacation. That's why ECB board member Benoît Cœuré said earlier this week the central bank will pull forward bond buying and take it easier a bit later on. He said:
[W]e are also aware of seasonal patterns in fixed-income market activity with the traditional holiday period from mid-July to August characterised by notably lower market liquidity. The Eurosystem is taking this into account in the implementation of its expanded asset purchase program by moderately frontloading its purchase activity in May and June, which will allow us to maintain our monthly average of €60 billion, while having to buy less in the holiday period.
The ECB bond-buying program—anticipation of it and the actual announcement—helped push the euro lower in recent months. The single currency is down almost 9% against the US dollar this year. And this week alone it declined 3.3% against the greenback, after a stronger reading on US core inflation, and comments from Fed Chair Janet Yellen shored up expectations that the US central bank will start raising interest rates this year. Meanwhile, that weak euro has boosted European equity markets. Benchmark indices in Germany and France were both up more than 3% this week.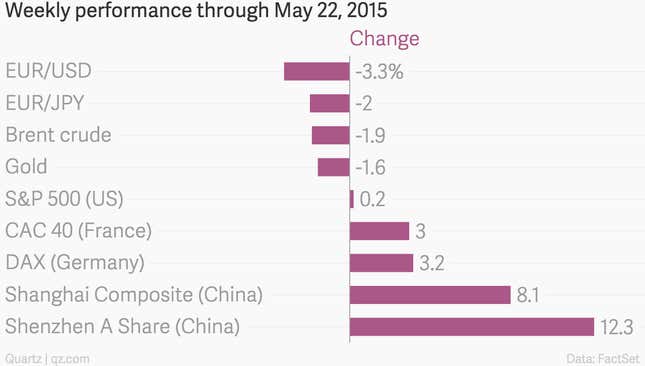 Meanwhile, the Chinese stock markets continue to romp. China's Shenzhen A Share index has almost doubled this year, on excitement over monetary and fiscal efforts to support economic growth. The Shenzhen index rallied more than 12% this week alone, the most since 2008, according to Bloomberg.