Humanity's march toward a future of self-driving vehicles seems unstoppable.
And the groundswell of opinion in favor of this concept, which would have seemed crazy not that long ago, is firmly ensconced on Wall Street. Last year, analysts at Morgan Stanley provocatively declared that a self-driving utopia could be upon us within a decade; today those sentiments are echoed by their peers at Goldman Sachs. From a note published this morning:
Cars that lack steering wheels, brake when they sense a person or object, emit only water when on the move, or use advanced materials like carbon fiber-reinforced polymer—these are just some of the innovations that will be commonplace by 2025.
According to Goldman, autonomous cars could change everything. Some obvious industries—think energy, materials, and high-tech manufacturing—will be impacted. Safer, collision-avoiding vehicles could also totally reshape the insurance business, for example, since a huge chunk of the premiums they receive currently relate to auto coverage.
Yet, for all the exciting possibilities of self-driving cars, a survey by the Consumer Electronics Association cited by Goldman reveals some fairly mundane preferences for what passengers could actually do in them.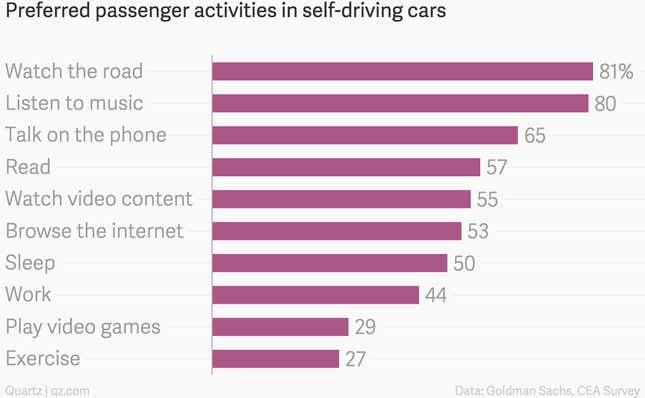 These are mostly quite boring things to do with the awesome technology of driverless cars.
Things do start to get interesting the further down the list of preferences you go (exercising in a car?) but this is all just speculation; people don't really know what they could do in a self-driving car yet since there aren't any on the market.
The TV industry is already eyeing the autonomous car as a big opportunity, so it will be interesting to see how that pans out. For the record, Goldman predicts that 2017 will be a "watershed year" for autonomous vehicles.
That's when it thinks Google will launch its much-discussed autonomous vehicle. Launches from conventional automakers such as Daimler and Nissan could follow in 2020, the bank argues.