It's finally (reportedly) happening, people. Apple is going to fix its shift key, the bane of many's existence.
According to 9to5Mac, iOS9—the next iteration of Apple's mobile operating system—will feature a redesigned shift key. Details on exactly how it will change are vague. But for anyone who has tried to type on an iPhone or iPad, you know this news could be potentially game-changing.
As it stands, it's not easy to tell when your shift is on and when it's off, and toggling between the two is far from intuitive. (For now, this site can help you out.) As of iOS8, a gray arrow signifies your shift is off, while a black one means it's on (and a black arrow with a line underneath means it's locked in the on position):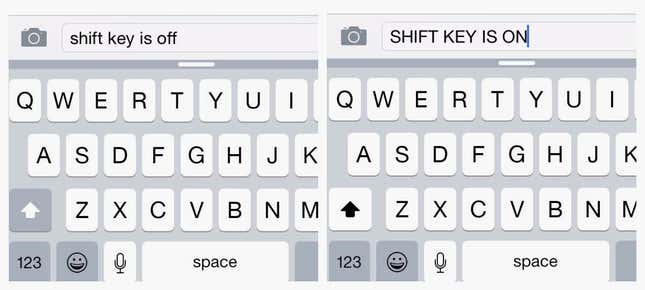 In previous versions of iOS, the color coding was different. Long story short, it all sounds minor enough but the button is highly annoying, and despite multiple changes to it over the years, Apple has been unable to solve the issue.
As you can see, the shift key really is the source of much hardship among Apple device users:
9to5Mac also reports that iOS9 will feature split-screen apps for the iPad, a new font, support for Apple Pay in Canada, and various other enhancements. Also, the next generation of the iPhone will reportedly include Force Touch technology and haptic feedback.
But perhaps none of those things are as important to the everyday iPhone user as the redesigned shift key. Let us all rejoice.