Luxury labels count on the perceived value of their brands as a major selling point, so there's some logic to assigning an actual dollar value to a brand's label and its connotations, not just to its product.
Millward Brown, a brand-strategy consulting group, does exactly that. And according to its latest report, which defines a brand's value as "the dollar amount a brand contributes to the overall value of a corporation," it has been a really bad year for luxury.
The top 10 luxury brands, including Prada, Gucci, and Cartier, lost 6% in combined brand value, or about $7 billion, from 2014 to 2015, the report says. Overall, that's quite a plunge, considering that luxury as a category was up 16% in brand value a year ago.
Indeed, luxury saw the largest decline of the 14 categories that the report looked at. (The others were retail, technology, insurance, telecoms, beer, soft drinks, oil and gas, fast food, cars, personal care, regional banks, global banks, and apparel.)
Within luxury, only two of the top eight brands gained brand value compared with last year—Chanel and Louis Vuitton. The rest of the brands lost cachet, with Prada's falling the furthest. (Michael Kors and Tiffany were new additions to the top 10 and didn't offer any comparison with last year, so they are not included in the chart below.)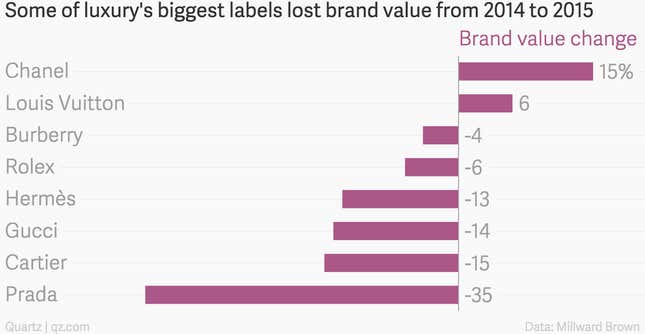 The conditions the report cites as hurting the value of these brands are the same ones hurting the companies' profits: In particular, the economic slowdowns hitting China, Russia, and Brazil, and China's ongoing corruption crackdown, which has checked the indulgent spending of Chinese officials and put a dent in sales of pricey Swiss watches.
China is by some estimates the world's biggest buyer of luxury goods, and its shifting tastes for luxury goods are a major force in determining luxury brand value today.
It's Prada's heavy reliance on China, which including Hong Kong and Macau makes up a quarter (pdf) of its retail sales, that caused the precipitous decline in the brand's value over the past year, the report says. (It's also the reason Prada's sales plummeted 28% in 2014.)
The report draws its conclusions from what it calls "intensive, in-market consumer research" covering "three million consumers and more than 100,000 different brands in over 50 markets."
Notably, global banks—not known for being particularly beloved by consumers—were the only category other than luxury in which Millward Brown found a decline in brand value. That's not great company to keep.