The numbers: Not good. Net income (pdf) for the Prada Group, which owns Prada, Miu Miu, Church's, and Car Shoe, dropped 28% to €451 million ($489 million) for fiscal 2014. Sales in Europe and Asia Pacific (not including Japan) were down, while the worst numbers came from China, which saw a 7% decrease. Revenue overall was down 1% to €3.55 billion ($3.85 million).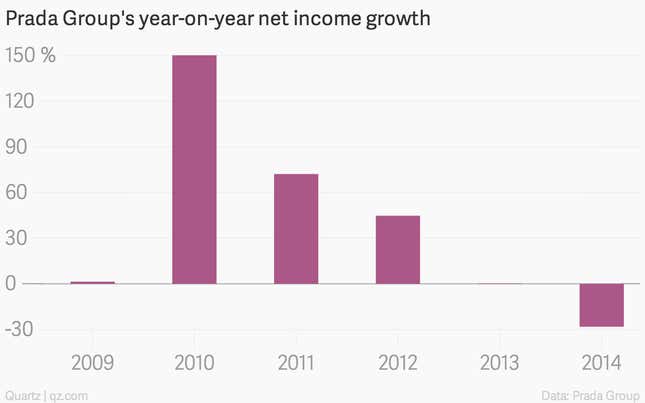 The takeaway: It was Prada's first reported drop in profits since it listed on the Hong Kong Stock Exchange in June 2011. The dive in Asia Pacific resulted primarily from poor performance in Hong Kong and Macau, where "market conditions deteriorated significantly during the second half," according to the earnings report. The region, not including Japan, accounts for 38% of the group's sales, so a hit there hurts overall profits.
What's interesting: Those deteriorating market conditions are due to a general economic slowdown and Chinese president Xi Jinping's "anti-extravagance" campaign, which Prada says has had an influence on "the spending patterns of Chinese customers." The campaign targeting the lavish buying habits of government officials has proved a serious setback for some luxury brands, such as Hermès and other makers of flashy watches. Prada's sales of leather goods, which make up two-thirds of the group's sales, saw a 6% decline for fiscal 2014 resulting from the tough conditions in Asia as well as reduced tourism in Europe.
One ray of hope for the group: They saw a "double-digit organic increase" in their men's business, driven by increased sales of footwear and ready-to-wear apparel. Maybe the continuing rise of the Yummy will help Prada's numbers next time.