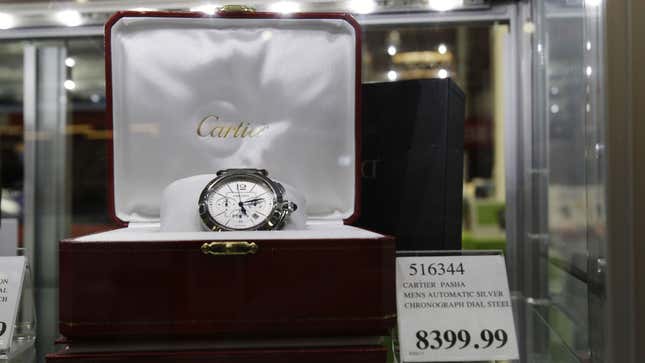 Swiss luxury company Compagnie Financière Richemont—maker of Cartier timepieces and jewelry and Montblanc pens, among other finer things—posted worse-than-expected quarterly sales numbers after revenues at its all-important Chinese segment flat-lined during the company's third quarter. Richemont's sales are heavily geared toward the Asia Pacific, at about 39% of all revenue. According to FactSet, China and Hong Kong alone account for more than 25% of sales.
We've previously spotlighted statements that suggest a large subset of the flashy Swiss watches sold in recent years in the People's Republic have ended up on the wrists of Chinese public servants. "As much as 60% of expensive watches in China are gifted to officials," Franck Giacobini, Asia Pacific director for luxury watchmaker A. Lange & Söhne, recently told the Australian Financial Review (paywall). But Chinese market research firm Hurun recently noted that "the luxury watch industry has had a tough year, perhaps brought on by bad PR for the industry following cases involving financial irregularities of government officials and watch ownership."
The combination of the recent Chinese leadership transition along with appropriate amount of outrage from Chinese bloggers about the ridiculously expensive wristwatches worn by officials who are supposed to be earning modest salaries has been poison for sales of extravagant watches. And they're not alone: Other lubricants of the Chinese government apparatus—such as the one-time tipple of choice for government officials, a sorghum liquor once described as a "liquid razorblades"—have also declined.