Snapchat famously spurned a $3 billion acquisition offer from Facebook in 2013 to strike out on its own, and that meant finding a way to make money off its ephemeral messaging platform.
What the young company ultimately landed on was a clever format for its advertising: 10-second full-screen video spots shown in vertical orientation. Snapchat has shown that vertical ads are more engaging simply because they require users to do less work. Because users don't have to rotate their phones, they're nine times more likely to watch Snapchat ads to completion, compared with horizontal video ads, according to the social network.
Snapchat recently said its community of 100 million users watch 2 billion videos on mobile each day, half the daily mobile video views that Facebook boasts.
The wisdom of Snapchat's focus on vertical video was buttressed today by Mary Meeker, a partner at the venture capital firm Kleiner Perkins Caufield & Byers, in her much-anticipated annual internet trends report. Americans now spend 2.8 hours a day interacting with their smartphones (which people by default use vertically, in portrait mode), and that figure has been steadily increasing in the last five years, Meeker said.
Put another way: That means roughly 30% of Americans' screen time is spent on mobile, mostly in vertical orientation, as opposed to on horizontal screens such as computers and TVs.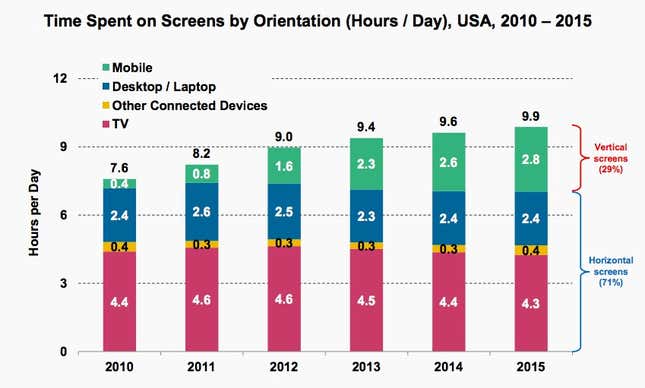 Still, not all advertisers are eager to come on board at Snapchat. The unusual format for its ads means advertisers can't repurpose existing video ads, which are typically shot in landscape mode so they can be distributed widely on platforms such as YouTube and Facebook. And Snapchat's lack of targeting or measurement tools—or even the ability to share or comment on ads—has deterred advertisers.
As a result, the company has sharply cut its ad rates. After demanding $750,000 daily commitments from brands at the start of the year, Snapchat now plans to charge $20 per 1,000 views.