Snapchat has become a mobile video powerhouse, the company asserts in a Bloomberg profile of its young CEO, Evan Spiegel.
Specifically, the social network has "more than 100 million mostly young users" who "view more than 2 billion videos a day," Bloomberg's Brad Stone and Sarah Frier report.
There is no independent confirmation of these numbers, but if true:
That's more than half of the daily mobile video views Facebook is boasting. Facebook's last figure—from its first-quarter earnings call in April—was 4 billion global video views a day, with more than 75% viewed on mobile (pdf). (Google's YouTube, by the way, simply says: "Every day people watch hundreds of millions of hours on YouTube and generate billions of views," half on mobile devices.)
That's roughly 20 mobile video views per user, per day on Snapchat. Versus an average of about four mobile video views each, per day, for Facebook's 800 million daily mobile users.
Comparing Snapchat and Facebook's video performance may not be apples to apples, however: A Snapchat representative did not immediately respond to a request for clarification about how it defines video views or users. Facebook, for example, counts even a scrolling pause of about three seconds as a view, while YouTube waits about 30 seconds before registering a view.
It's also not clear what percentage of videos on each site would be eligible for advertising. Snapchat, for example, says in the Bloomberg article that it won't put ads in private video messages, which likely represent a large percentage of its total views.
The broader question, which Bloomberg attempts to answer, is whether Snapchat will be able to turn all this attention into a big business. It seems likely that mobile—and mobile video, specifically—will continue to steal ad budget share, as traditional TV starts to decline.
Mary Meeker, the legendary internet analyst turned venture capitalist, has long claimed that mobile is due to get more of the advertising spend it deserves, based on its oversized share of attention.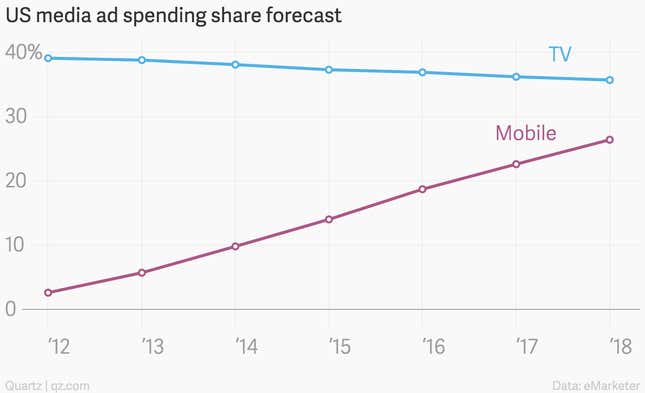 And Snapchat seems differentiated with a superb mobile-native video product—short, tall-screen videos that are easy and fun to watch on a big smartphone. But execution, as they say, is everything.