In 2012, tablets outsold notebook computers in the US and China, but 2013 will be the year this trend goes global, according to NPD DisplaySearch. That's three years ahead of analysts' earlier estimates, and reflects a projected 64% growth in tablet purchases in 2013 versus 2012.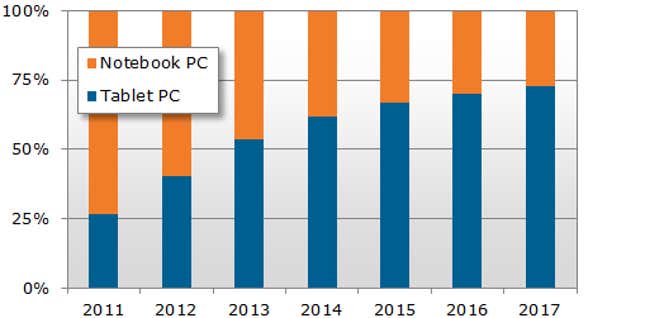 This growth is driven primarily by a surge in purchases of smaller 7-inch and 8-inch tablets, which will represent 45% of the 240 million tablets sold in 2013. Notebooks, meanwhile, will sell 207 million units in the same year.
NPD is projecting just a 17% market share in 2013 for the original size, 9.7-inch iPad, compared with just under a 40% market share for the iPad in 2012. Due to sales of the iPad mini, which could overtake sales of the original iPad in 2013, Apple will still sell 97.6 million tablets, leaving its overall tablet market share unchanged.
Chinese will buy 27% of tablets sold in 2013, projects NPD, but most will be made by "small local brands." These ultra-cheap tablets, of course, are what are fast becoming the default computing devices in emerging markets.