It's been a dark, dark week for international soccer, following the arrest of several high-ranking FIFA officials on corruption charges. But here's some good news for soccer fans: FIFA 16—the upcoming installment in the world's best-selling sports game franchise—will feature women for the first time ever. They will finally, as maker EA Sports says, be "in the game."
FIFA 16 will include the women's national teams from Germany, USA, France, Sweden, England, Brazil, Canada, Australia, Spain, China, Italy, and Mexico. It hits stores in September.
Why has it taken so long? According to EA, you can blame technology, not sexism.
"We've been talking about it seriously since 2009," David Rutter, the game's lead producer, told ESPN. "The problem was, we weren't at a point then where the graphics would've been able to clearly articulate visually the differences between men and women. It wasn't just an ethical and moral question that needed to be answered—it was a technical one."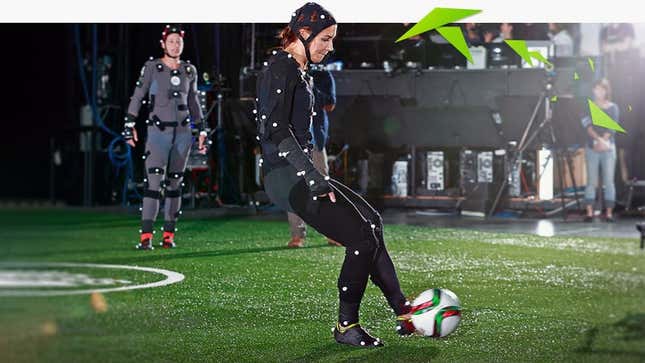 Okay then. Rutter also told ESPN that they needed to make sure they did women's long hair justice—a task that took extra time and effort because most male players have shorter hair. Except, of course, before he trimmed his mane a few years ago, the best player in the world.
Adding women is not only an important and necessary step for the video game world, but it could also have a real effect on the real-world growth of women's soccer. According to a 2014 ESPN poll, 34% of FIFA gamers became soccer fans after playing the game. I, for one, can attest to that. I began playing in FIFA in 2003 or so, without much real interest in soccer beyond the confines of my gaming console. Twelve years later, I consider it one of my favorite sports.
But there's still more work to do. A recent study showed that roughly half of gamers are women. And yet, female gamers often feel marginalized—especially the sports gaming community. There are still no WNBA games, and EA Sports' golf franchise, Tiger Woods PGA Tour, only recently started including a small list of LPGA golfers.