When Cheryl Jerozal first attended Google's I/O developer conference four years ago, she felt isolated.
"I didn't think about it at the time, but…the low number of fellow women then was probably a big reason for that," Jerozal, an Oakland-based startup founder, tells Quartz.
But with a record number of female attendees this year, Jerozal says it's a completely different environment. "Meeting [these women] makes my aspirations seem realistic instead of a long shot," she says.
As Google's biggest event of the year, its annual conference draws thousands of developers from all over the word—the overwhelming majority of them male. But the Mountain View, California search giant has been working to shift the balance, teaming up with organizations like Women Who Code and GirlDevelopIt to offer discounted tickets to female developers.
Though men still dominate the conference, its outreach efforts have helped narrow the gap. This year, the company says 23% of its participants are female, up from 20% in 2014 and 8% in 2013.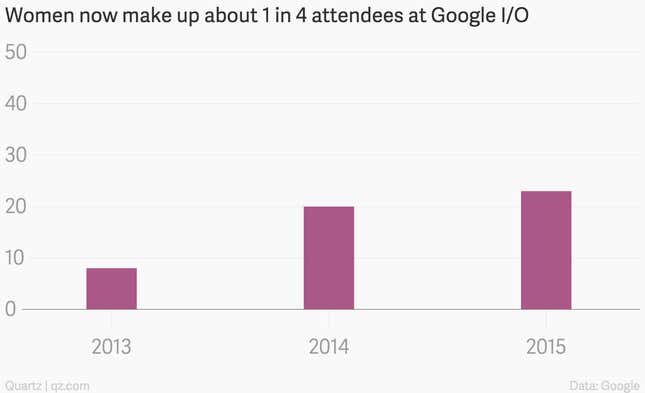 Over the same period of time, Google has more prominently featured its female execs on the main stage. At its keynote address yesterday, Google Now director Aparna Chennapragada, vice president of engineering Jen Fitzpatrick, and Google Play product manager Ellie Powers cumulatively had 39 minutes, or 31%, of stage time. That's a big leap from last year when Powers and Avni Shah, director of product management for Chrome, spoke for 17 minutes, and from 2013 when Powers and Johanna Wright, then vice president of mobile search (who's currently on sabbatical), had 14 minutes.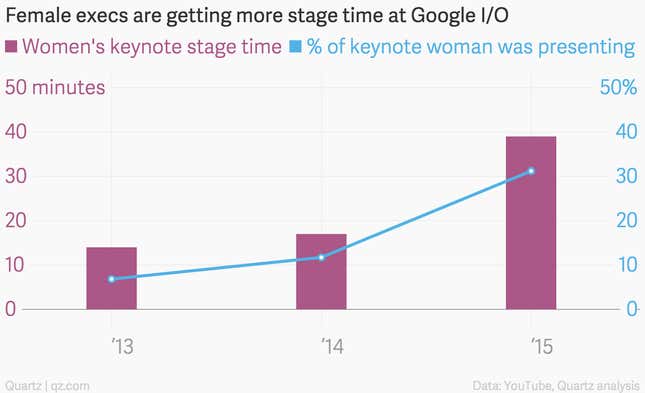 It wasn't enough just to get women in the door. It was important to make them feel welcomed. Weeks before the show, Google created a women-only group using the Slack team chat application so attendees could get to know each other. On the eve of the conference, it hosted six dinners in San Francisco for 800 women attendees. And at I/O, it held a series of talks on the show floor with women speaking about their experiences working at Google.
"It made me feel like I'm not alone," says Marian Tesfamichael, a first-time attendee from Toronto. "It is important for women to attend developer conferences because we are underrepresented, and it's even harder when you are a person of color to be recognized and valued."