In what can only be described as a neighborhood of secret ocean lairs for James Bond supervillains just off the coast of Dubai, the real estate agency Kleindienst Group is constructing a series of lavish floating villas that it has nicknamed "floating seahorses." The villas are a part of the company's "Heart of Europe" development, a group of artificial islands modeled after European design and heritage.
The villas have three levels—the main floor at sea-level, an upper deck, and a lower level completely submerged in water. The lower level consists of a master bedroom with floor-to-ceiling windows for a completely "uninterrupted" view of the ocean around you.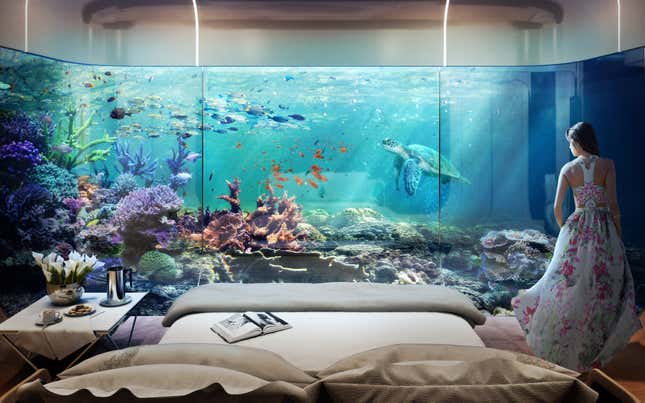 It's very cool in theory, but we imagine views may sometimes be rather dark and murky—and it won't exactly be easy to clean the outside of those windows.
The Floating Seahorse is "essentially a boat, not a villa," according to Kleindienst. It's a boat that doesn't move, with a fully-fitted kitchen and a glass-bottomed jacuzzi on its sun deck. But sure, let's call it a boat.
A Kleindienst spokesperson tells Quartz that the homes are currently selling for 6.5 million AED ($1.8 million). Only 42 have been built, and 35 have already been sold. The project is scheduled to finish by the end of 2016, and the first tenants will move into their giant floating seahorses in 2017.
The Heart of Europe is itself a section of "The World," a man-made archipelago constructed in the shape of a globe four kilometers (2.5 miles) off the coast of Dubai. After a halt in construction following the 2008 financial crisis, The World appears to be up and running again, and The Heart of Europe is set to be its first finished project.
But the floating seahorse villas are not just good news for Dubai's ultra-rich. The developers say they'll be creating some cushy accomodations for actual seahorses, an endangered species, too. "We will create an artificial coral reef beneath the luxury retreats," said Kleindienst CEO Josef Kleindienst, in a press release. "[It] will be a protected area in which seahorses can safely live and breed."