Fitbit, a maker of wearable fitness trackers, is looking to raise roughly $450 million in an initial public offering. If it succeeds in selling shares at $15, the midpoint of the range it proposed in a regulatory filing today (June 2), the company would be valued at $3.3 billion.
Despite growing competition in the wearables market, Fitbit's financials look sturdy. The eight-year-old device-maker sells seven products that cost between $60 and $250. In 2014, the company made a little more than $100 million in net income on nearly $750 million in revenue.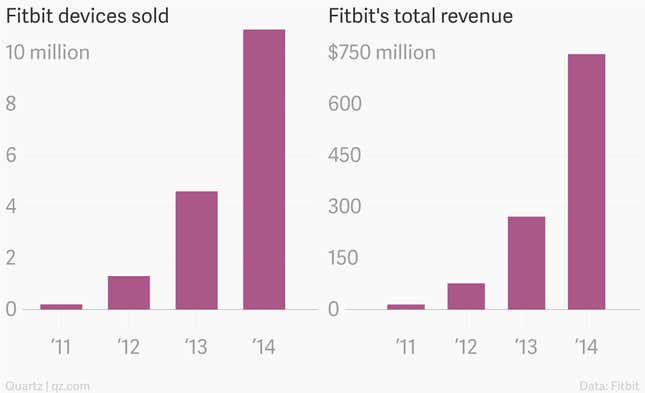 There have been bumps along the way, though. In March 2014, the company had to recall of its Fitbit Force device because of reports that it caused skin rashes and irritation for some customers. And recently, the company was dragged into court by one of its chief competitors in the wearables market: Jawbone, which accused Fitbit of "systematically plundering" confidential information by poaching Jawbone's employees. Fitbit has denied the allegations.
Perhaps the bigger question for investors is whether digital-health stocks can break out of their slump; many have failed to do well after their IPO hype has died down. With big technology companies such as Apple, Microsoft, and Sony investing heavily in wearables, the real action in the digital-health market may lie elsewhere—for example, in the mundane but important area of health-data management.