It was a big day for euro zone-watchers, with lots of data and a European Central Bank presser to boot. On the data front, we got numbers on retail sales (up 2.2% from last April) and unemployment (down to 11.1%). On the ECB front, the monetary policy committee kept short-term interest rates low (the interest rate on excess deposits will stay at -0.2%).
The euro zone, and its celebrated president Mario Draghi, could use a bit of good news. Besides fighting a possible Greek default that could, perhaps, dissolve its monetary union, the ECB has been rolling out its version of quantitative easing—the bond-buying tool that the Japanese, British, and US central banks have relied on to help tamp down long-term interest rates and spur economic growth. Draghi said the program was working out pretty well. From his statement:
Our monetary policy measures have contributed to a broad-based easing in financial conditions, a recovery in inflation expectations and more favourable borrowing conditions for firms and households. The effects of these measures are working their way through to the economy and are contributing to economic growth, a reduction in economic slack, and money and credit expansion.
As fraught as things might seem in Europe's economy, the numbers back him up. Inflation is picking up.
There's more money floating around in the economy, as measured by the M2 figure tracking cash and bank deposits.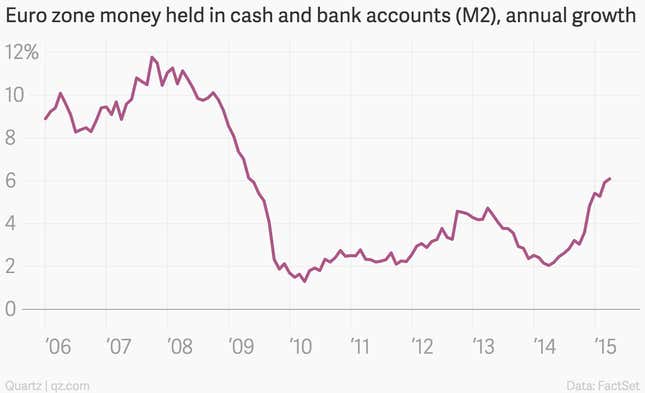 And banks in the euro zone seem to be loosening up credit, with household credit rising and business lending poised to actually grow for the first time since 2012.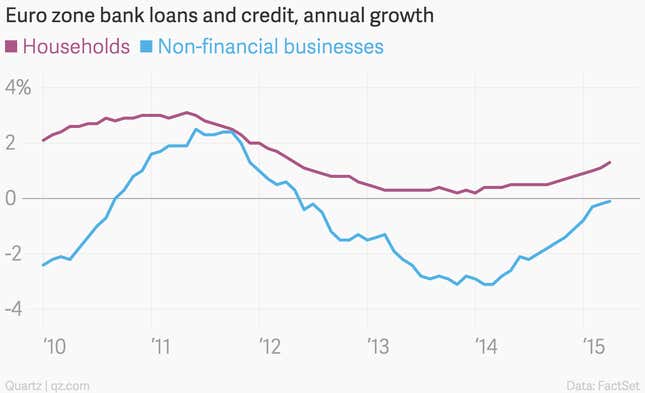 Those last three measures started perking up back in April 2014, when the ECB first discussed a QE program, and they haven't slowed down since. But whether they filters down to actual GDP growth is another remains to be seen. Just this morning, the ECB lowered its long-term expectations for economic growth:
And today (June 3) the Wall Street Journal had a story (paywall) noting that growth in troubled Spain, though spectacular, hasn't been distributed terribly equally. But for now, the ECB mainly seems concerned with sparking a stronger recovery, and it looks it's succeeding.