About nine million Chinese teens will take the National College Entrance Exam, or gaokao, this Saturday and Sunday.
The grueling two-day exam is often referred to as "life's most important test," or a "single-log bridge," because it is still by far the most significant factor for admission to a Chinese university. And, as elsewhere in the world, which university you attend plays a huge role in the kind of job you land, and ultimately the kind of life you lead.
These teens have been doing more than just studying to prepare for the test, which has dozens of multiple choice questions, essays, and short answer questions. Some are relying on elaborate cheating schemes, while others depending on superstition and communism to help them perform better. Here's what preparations looked like in some parts of China in recent days.
Praying to the gods:
Nearly a thousand parents of students from Liuan city of central Anhui province visited a local alley to burn incense to a so-called "god tree" to pray for good grades at exactly midnight on June 1, state-owned news agency China News Service reported.
June 1 was the fifteenth of the month in Chinese lunar calendar, a date on which many Chinese people (though most are, technically, atheists) believe "burning the first incense" for the gods can bring good fortune.
It was not good fortune for the 100-year-old maple tree, which caught fire after hopeful parents and students burned long, thick joss sticks at its base. The incense burners left at two in the morning, after security guards came to put out the fire, China News Service reported.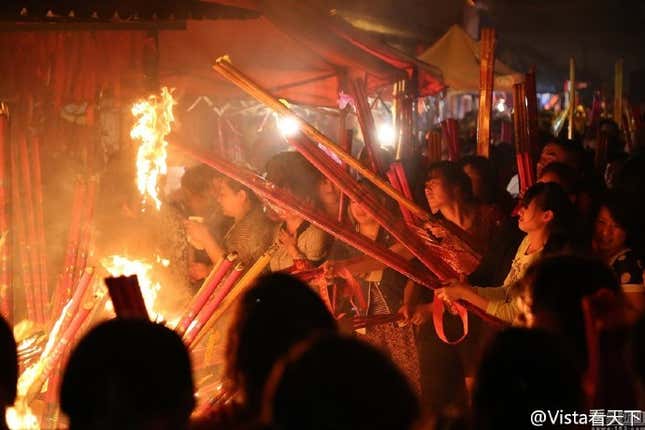 Burning incense to pray for success in the gaokao has become more and more popular. Local media reported that this year one joss stick was sold for as high as 1498 yuan ($240) in a temple devoted to Wenquxing, the Wisdom God, in Mianyang, southwestern Sichuan province. Parents far from as far away as Shanghai or Xinjiang reportedly flew to the temple to pray.
Students in Beijing were also spotted bowing to a statue of Confucius, according to a Sina Weibo post: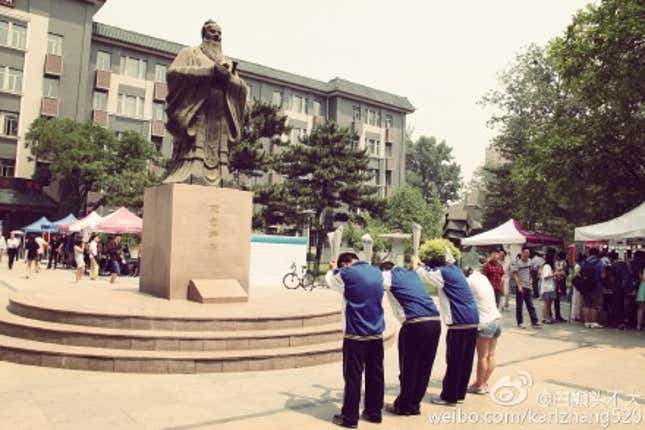 Taking slogans to heart
While parents are making wishes for their kids, some Chinese students are burying their heads deep in their textbooks and papers. The exam covers Chinese, maths, and English as well as a combination of politics, history and geography, or science physics, chemistry, and biology, depending on the student, so there is plenty to prepare for.
Up high above their heads in classrooms around the country school officials have hung slogans to inspire them that are often just like political slogans of the Chinese Communist Party.
High schools in southern Guangxi provinces featured slogans including "Raise one point, kill one thousand," "Insist if you can, insist till your death, or "If you don't study, how can you support your many women?" according to Chinese media.
Here's several other inspiring, or maybe horrifying, classroom slogans shared on Sina Weibo, a Chinese microblogging website.
"Without the gaokao, how can you take on the second-generation rich?" (The second-generation rich refers to China's princelings, whose politically-connected parents made fortunes as the economy opened up.)
"To succeed, first be mad, THEN make up your mind to go ahead."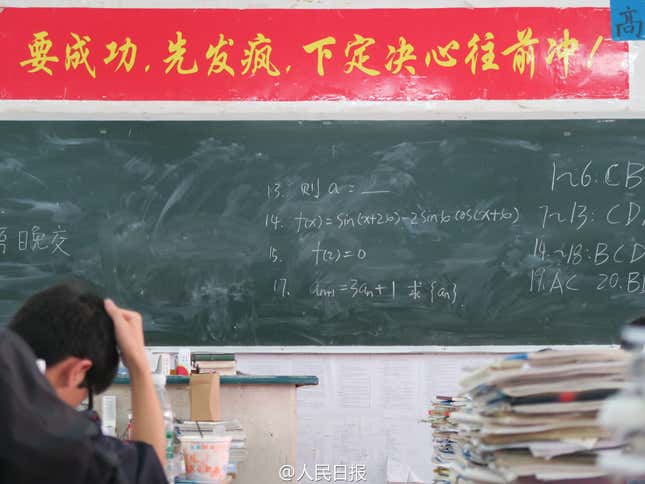 "Go to Tsinghua, to become brothers with president and premiere, go to Peking, to talk theories with academics and masters."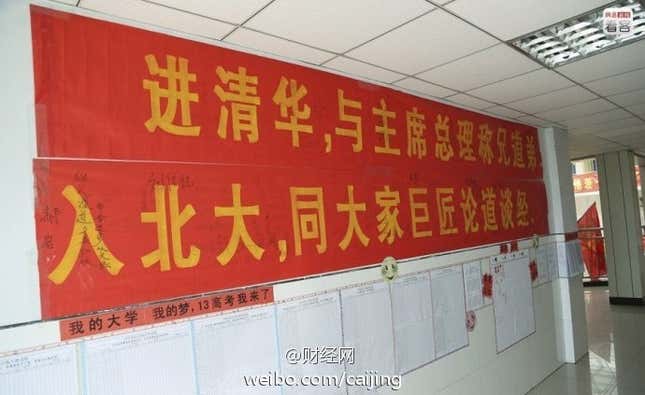 (Tsinghua University and Peking University are the two best institutions of higher education in China, where many teens dream of studying. Tsinghua is more renowned as a "cradle of Chinese leaders," where President Xi Jingping, former president Hu Jingtao, and former premier Zhu Rongji graduated. Peking is famous for educating many liberal arts masters.)
Wishing the exam would go away
Even official state media now report that gaokao "losers" like Alibaba's CEO Jack Ma (who only got 1 point out of 100 in the math portion of the exam on his first try, and took the gaokao for three years in a row to finally get university admission) can have a bright future. Some students who are to about enter into these examination halls to compete with their peers would love to skip it entirely.
of students from a high school in southern Hunan province upheld high red flags, swore oaths to "declare war" to the gaokao on May 26, when 11 days were left to the exam, China News Service reported.
And others have pointed out the exam's resemblance to the civil service exam in imperial China, where candidates were required to write stereotyped and redundant essays on the classics of Confucianism to get state jobs and earn social privileges. One blogger wrote on Weibo, "The gaokao has gone rancid. It becomes a battle that decides one's life fate. What's it different from the feudal imperial examination we used to criticize?"