London has once again been crowned the most visited city of the world, closely followed by Bangkok. The capital of the afternoon tea, the Big Ben and the Thames will receive 18.82 millions of travelers this year, according to MasterCard's 2015 Global Destination Cities Index.
Here are the top 20: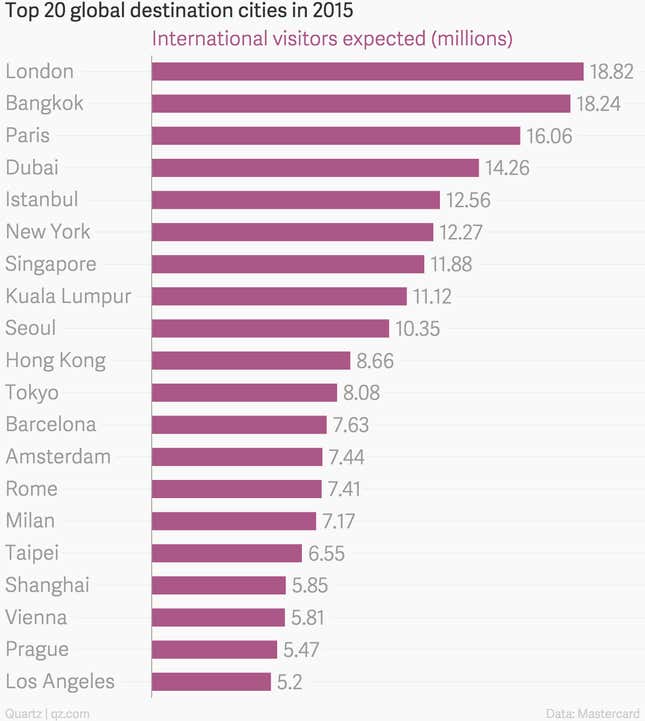 Based on data from 2009 to 2015, Mastercard's report examines how 132 major cities in the world are connected through air travel, and measures how many international travelers each city receives and how much money they spend. According to the report, international visitor numbers and their cross-border spending have grown faster than world real GDP since 2009.
As we've reported, Chinese travelers are big spenders in Western destination cities such as New York and Los Angeles. Asian cities also made a strong showing in this year's rankings, thanks in large part also to Chinese and other Asian tourists. Among the takeaways:
It's basically a tossup between London and Bangkok. The British capital has topped the rankings in five out of the last seven years, but in 2012 and in 2013 Thailand's capital edged it out. This year, the two cities are separated by a margin of only half a million visitors. "Their rivalry for the top rank is likely to persist," predicts Mastercard's report.
Five of the most visited cities are in Asia. They are Bangkok (second), Singapore (seventh), Kuala Lumpur (eighth), Seoul (ninth) and Hong Kong (10th). Mastercard's analysts point out, however, that there's a lack of diversity among the visitors to these Asian destinations. Bangkok's top five groups of visitors come from Hong Kong, Singapore, Tokyo, Kuala Lumpur, and Taipei, all in Asia. This homogeneity presents "risks to long-term resilience to any global economic shocks," the report says.
Asia has some under-the-radar up-and-comers. Colombo, the capital of Sri Lanka, and Chengdu, in the Chinese province of Sichuan, are the fastest growing destinations. As the report notes, those cities' increase comes off a very low base. But still, its notable that the fastest-growing cities do not include any North American or European destinations: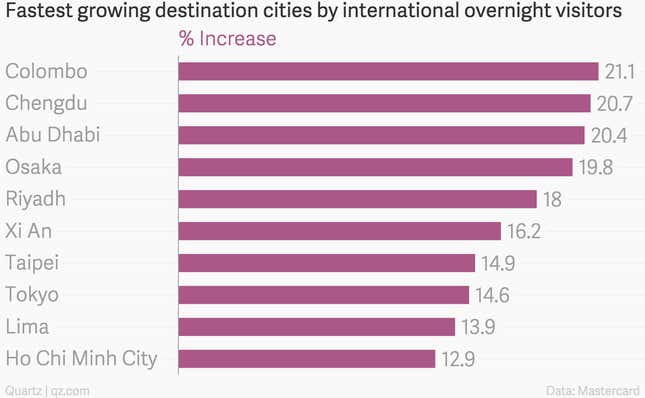 Among the cities that are both on the most-visited list and growing at a double-digit rate, Asia once again dominates. The report attributes this strong growth in tourism in Asian cities to "the massive increase in outbound travel from China."

When it comes to visitor spending, traditionally touristy cities keep attracting money. New York, Paris, Barcelona, and Seoul continue to rake in the cash. London, with $20.23 billion dollars, leads this ranking too. By this measure, four Asian cities made it into the top 10.