New York and Los Angeles, the most popular destination cities in the US, can thank two of China's largest metros—Beijing and Shanghai—for some of their biggest-spending tourists.
This year Beijing will be the top "feeder city" for New York in terms of tourist spending, according to the MasterCard 2015 Global Destination Cities Index (pdf). This is despite four other cities—London, Sao Paulo, Paris, and Toronto—supplying a greater number of tourists.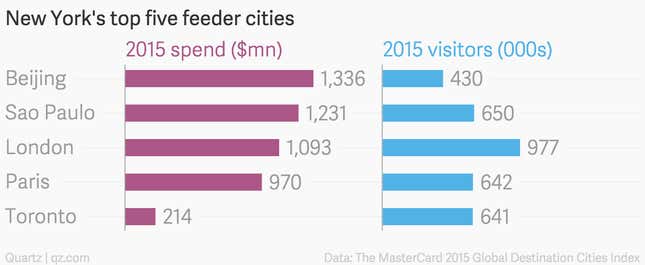 According to the research, which provides estimates for this year, London will supply New York with 977,000 visitors, the most of any city, compared with just 430,000 from Beijing. But the Beijing visitors will outspend those from London, $1.3 billion to $1.1 billion. Visitors from Toronto, who number at 641,000, will spend $214 million.
Beijing's spending clout has risen rather dramatically in recent years. In the 2013 report from MasterCard, Beijing didn't make the top five in the feeder-city spending category for New York. Last year it hit $1.4 billion, a little more than this year.
Meanwhile Shanghai will be this year's biggest feeder city for Los Angeles, again in terms of tourist spending. Other cities (London and Vancouver) will supply a greater number of tourists, but those from Shanghai will spend the most: $896 million. Tokyo comes in second at $506 million. In last year's report, Shanghai wasn't in the top 5.
Such stats point to a larger trend: a massive increase of outbound travel from China, which is now the world's top spender in terms of outbound tourism. It saw a 28% increase in expenditure in 2014, reaching a total of $165 billion, according to the United Nations World Tourism Organization.
US cities have benefited from relaxed visa rules for Chinese visitors, who now get 10 years before needing a visa renewal, as opposed to just one year previously. Many nations, not just the US, are easing visa requirements for big-spending Chinese tourists.
The influx of Chinese visitors can be felt in ways big and small. In New York, they've helped create tens of thousands of jobs. They spend the most on luxury goods. And the Chinese have become the largest segment of foreign visitors to the Metropolitan Museum of Art, reported The New York Times. The museum now has a presence on Weibo and offers a guidebook, iPad app, and audio guide in Mandarin. The Chinese guidebook is the best-selling of its foreign-language versions.
Chinese tourists' impact on the world's favorite cities has plenty of room to grow. According to a Financial Times report, at this point less than 6% of China's population has a passport.