The big news from the APEC summit in Beijing, apart from a spectacularly frosty handshake between China's Xi Jinping and Japan's Shinzo Abe, is an unexpected new travel agreement announced by US president Barack Obama.
The US and China agreed to lift visa restrictions on visitors from both countries, a move that a White House official said could add $85 billion to the US economy and create 440,000 jobs. Chinese tourists and business visitors will now be eligible for 10-year visas to the US, and students can get five-year visas; both were previously limited to one year. Americans will receive the same treatment in China.
The immediate benefits of this mutual pact may be somewhat lopsided. After all, the growth in Chinese executives, tourists, and students flocking to the US has been much stronger than the other way around. The flow of Chinese visitors to the US is bolstered bolstered by increasing wealth in China and a growing number of Chinese students going to US universities: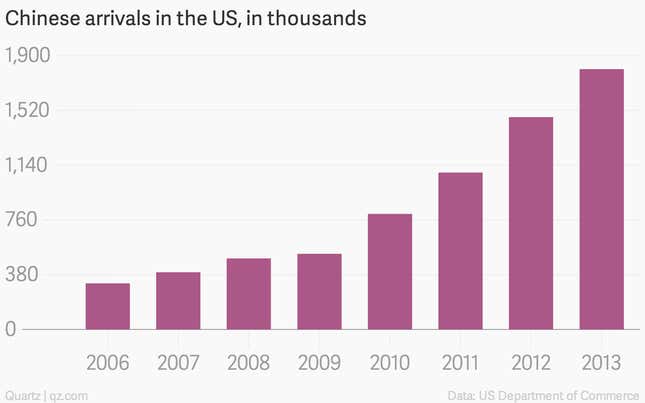 Around two-thirds of these visitors are on holiday or visiting family and friends, with the remainder divided evenly between students and businesspeople. A 10-year tourist or business visa makes it easier for Chinese visitors to plan multiple return trips, putting them on par with some European allies, while the extended student visa will eliminate red tape.
Chinese visitors to the US spent a total of $9.8 billion in 2013. That's not counting the $22 billion in US real estate that Chinese buyers also snapped up. The US east and west coasts are likely to be the biggest beneficiaries of the new rules—of the 1.8 million Chinese that came to the US 2013, nearly half visited California and a third went to New York. Los Angeles and New York City were the top city destinations, according to the US Dept. of Commerce (pdf, pg. 5).
In China, where foreign companies—particularly US tech firms—face increasing scrutiny by regulators and visitors are wary of rising pollution in major cities, tourist visits dropped by 2.5% in 2013. When it comes to education, Americans are particularly unenthusiastic about China—about 16,000 US students traveled to China to study in the 2010-11 school year, far short of a 100,000 annual goal Washington set in 2009, and well below the 285,000 Chinese students studying in the US.