The latest statistics on South Korea's Middle East Respiratory Syndrome outbreak are grim—nearly 90 people have contracted the virus, six have died, and 2,300 people have been quarantined in an attempt to halt the spread of the disease.
The outbreak has also shuttered hundreds of schools, and local hospitals are scrambling to trace which patients and employees have come into contact with infected people. The health crisis comes as South Korea grapples with a slowing economy, and is sure to exacerbate the already weak fiscal situation.
As Quartz reported in late April, well before "patient zero" in the current MERS outbreak had returned home from the Middle East to South Korea, the nation's economy was struggling as a strong currency cut into exports, and domestic consumption lagged: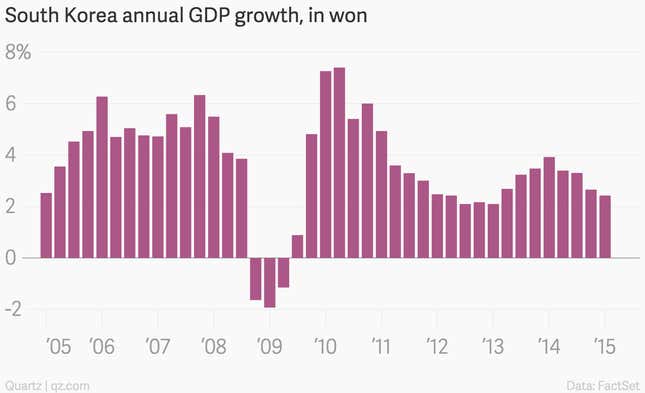 The most immediate sector of South Korea's economy that is likely to be hit by the MERS outbreak is tourism. But as Hong Kong's 2003 SARS outbreak showed (pdf, pg. 2), a prolonged epidemic of an infectious disease can also cut domestic consumption and exports, and ultimately impact the local property market.
Travel and tourism contributed 2.1% of South Korea's GDP (pdf, pg. 4) in 2013, but international visitor arrivals have grown significantly since then, as Chinese tourists flocked to hotspots like Jeju Island. International visitors increased 16.6% between 2013 and 2014 to 14.2 million, as over 6 million Chinese tourists visited, making South Korea China's top foreign tourism destination.
As of June 5, a total of 20,600 foreign travelers had cancelled trips to South Korea because of the MERS outbreak, the Korea Tourism Organization reported June 7. Most of those cancellations, some 85%, came from travelers from China, Taiwan, and Hong Kong. As many as 100,000 Chinese tourists are expected to cancel trips in June.
Chinese state media criticized the South Korean government's response to the disease, calling it "careless" and "insufficient." Hong Kong and Taiwan have issued travel advisories for South Korea, warning citizens to take precautions if they are visiting.