The US has accused China of countless insidious acts, including harmful cyberattacks and spying. Its latest allegation is of the sartorial variety.
China is to blame for the surging polyester content of wardrobes the world over, according to the US delegation at an agricultural forum held by the World Trade Organization last week.
China has been stockpiling huge amounts of cotton for years, and as WWD reported (paywall), the US delegation says this hoarding has led to "an increase in the use of polyester to the detriment of all cotton-producing countries."
That's right. Those polyester pants on the rack at the fashion chain down the street may owe their existence to China's nefarious manipulation of the world's cotton supply.
The US also said that China is paying out huge subsidies to its cotton sector, about $5.1 billion in the 2013-2014 growing season. Between these outlays and its stockpiling, China is causing cotton prices to plunge on the international market, it argued. Falling prices have hurt cotton farmers (paywall) worldwide, including in the US.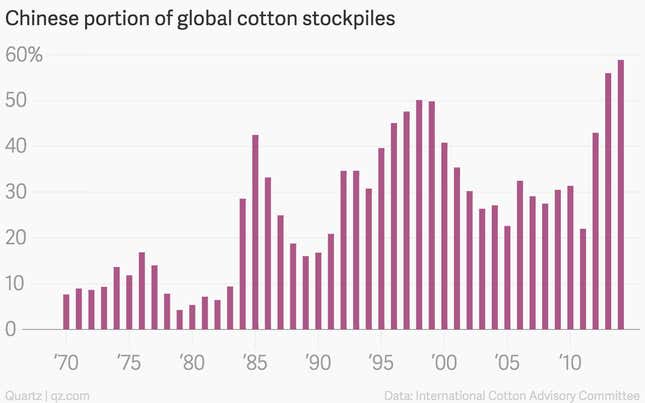 China disputes the allegations. It countered that its subsidies are necessary to protect its farmers, who are competing against cotton imports from other countries subsidizing their cotton sectors. It didn't name the US explicitly, but there's little doubt that's the country being referred to by the officials. It also said it isn't exporting any of its cotton stockpile, and therefore that shouldn't affect global prices.
China did, however, recently cut its import quotas to help its domestic cotton producers. As mainland China is the world's largest cotton consumer, that means the market was suddenly flooded with the cotton China wasn't buying, lowering prices.
As for the rise in polyester, China attributed its boom to improvements in polyester's quality over the years and to declining oil prices, which would make polyester cheaper since it's derived from crude oil.
Of course, if polyester production does continue to rise as predicted, it's China that would likely benefit most. The country already makes most of the world's polyester, and Tecnon Orbichem, a data and analysis company for the petrochemical industry, forecasts that by 2025 China will make 85% of the fabric.
So regardless of misdeeds related to cotton, China is indeed behind the polyesterization of our clothes.