New mobile internet trends have caught my attention this week. Today, we look at their impact on the news business. (1)
In developing countries, mobile growth keeps accelerating.
At least, four elements drive mobile growth in emerging countries:
All of the above is also good news for publishers who will enjoy a much larger reach with small distribution costs through basic applications.
In Western countries, mobile in now part of everyone's life:
Nine Millennials (2) out of ten admit always carrying their mobile with them.
The most visible evolution in mobile advertising will be the shift in screen formats,from the classic horizontal one inherited from the desktop internet, to the more mobile-friendly vertical presentation.
Today, according to Mary Meeker's KPCB Internet Trends report, vertical screen usage accounts for 29% of the time spent on digital media vs. 5% five years ago. The ad community (driven by publishers rather than by creative agencies) is beginning to respond and that will change everything: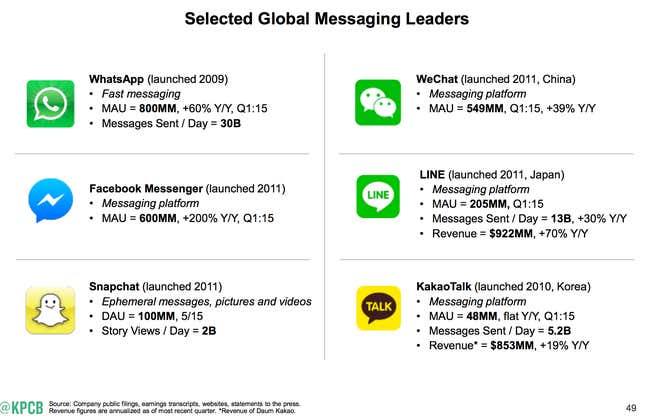 Staggering figures, both for absolute volumes and growth rate. These services are to become platforms by themselves. Inevitably, they will be tempted to include news, which will be seen as potential differentiators aimed at increasing stickiness (Snapchat does it already). This could be seen as a good omen for news publishers: Some will see this as another distribution channel for their contents; but it's a rather fragile one because these platform will never see news content more than a secondary — and disposable — offering.
(1) Unless stated other otherwise, most of the figures come form Kleiner Perkins' Mary Meeker last Internet Trends report, eMarketer, Search Engine Land, PwC.
(2) Age segments: Millennials: 19-34 years-old in 2015; Generation X: 35-50 yo; Baby Boomers: 51-69 yo.