When Steve Jobs launched the iTunes Store in 2003, he was credited with saving the music industry, which at the time was struggling to stay afloat in a sea of online pirates. But over the next decade, the idea of owning music became archaic, with more connected consumers choosing to stream their music from YouTube or Spotify instead. So Apple, once an innovator in digital music, fell behind and has been playing catch up ever since.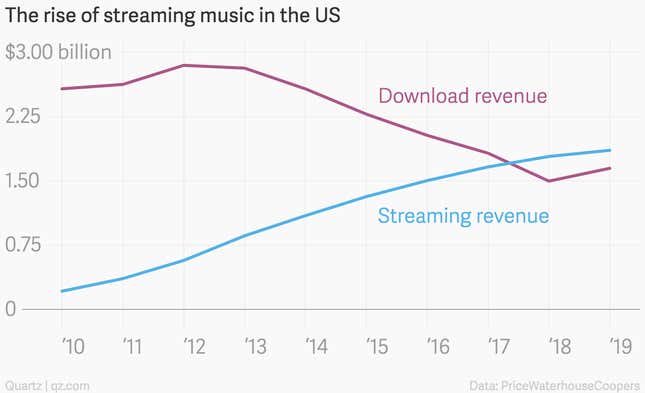 But Apple is hoping that will change with yesterday's unveiling of Apple Music. At its Worldwide Developers Conference, the company showed off a new streaming music service that builds off its acquisition of Beats Music last year. Apple Music will be available June 30 for $10 a month, or $15 for a monthly family plan for up to six people.
Like Beats Music, Apple Music strikes a balance between algorithmic recommendations and human curation (in-house music editors and outside contributors will craft many of the playlists featured on the service). In addition to the 30 million tracks that users can stream on demand or save for offline listening, Apple Music will also include an online radio station, Beats1, and a social network for artists to connect with their fans.
Already, Apple Music has the competition nervous. Around the time Tim Cook took the stage to announce "one more thing" (Apple Music), Pandora shares inched down, with the stock closing at $17.70, down 3.8%. And though Spotify CEO Daniel Ek tweeted and soon after deleted what could have been a half-hearted response to the debut ("Oh ok.")—or just a failed direct message—the company is already rethinking its pricing to better compete against Apple. (Rdio, meanwhile, is trying to take the high road.)
Forrester analyst James McQuivey believes Apple can successfully take on Spotify. "Not because its service is any better," he explains, "but because it can build its new music service into the hundreds of millions of devices that its loyal Apple users already love." That was also the case in 2013, when it introduced iTunes Radio, which has largely been dismissed as a failure. But the difference now is that Apple has a product that actually rivals Spotify's service. And with Apple offering new users a three-month free trial, McQuivey thinks it'll be able catch up to Spotify's base of 15 million paid subscribers in less than a year.