J.Crew, the American clothing retailer whose once-omnipresent washed chinos, navy blazers, and other casual-prep staples have lately struggled to find customers, says it has laid off 175 staff members and fired its chief women's designer. According to the fashion web site Racked, the terminated employees were asked to leave immediately and escorted out by security guards.
It's a sad development for a brand that had such huge popularity only a few years ago. On June 4, J.Crew reported another quarter of falling sales, pointing the finger, a bit oddly, at a misfire in its knitwear assortment: it just did not have the right cardigan.
Lately, the one bright spot for J.Crew has been its Madewell subsidiary, where sales are going strong. In that light it's not surprising that one of the structural changes J.Crew announced was the move of Madewell's head designer, Somsack Sikhounmuong, to the role of head of women's design for J.Crew, effective immediately. Tom Mora, who previously held the J.Crew position, is leaving the company.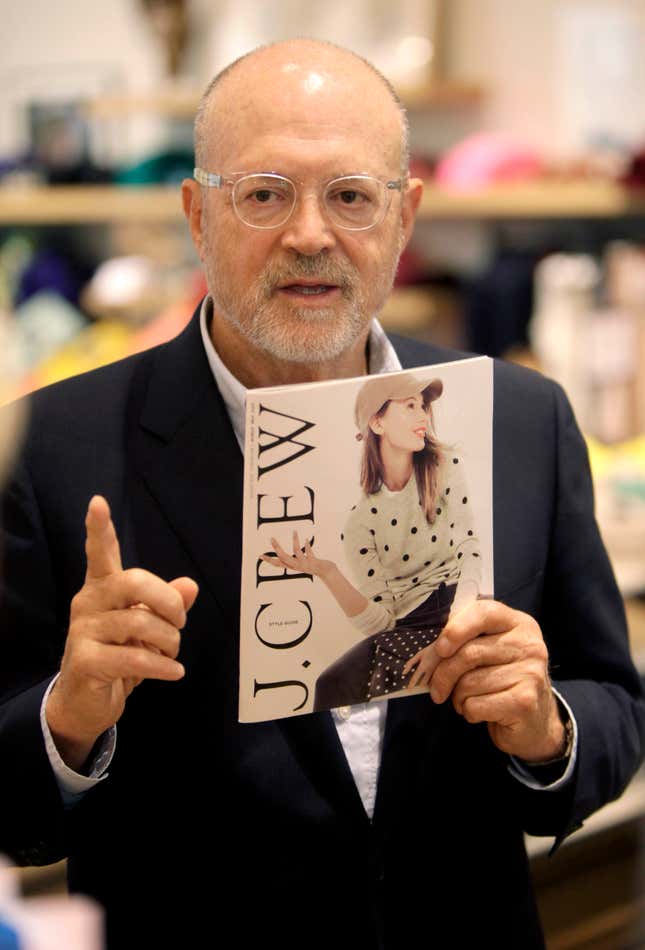 "We are making meaningful and strategic changes across our organization to better position us for future growth," Mickey Drexler, CEO of J.Crew, said. "While many of these decisions were difficult, they are necessary."
Drexler, a legend in the retail sector from his days running Gap, took over as J.Crew's CEO in 2003. In his first 10 years at the helm, J.Crew tripled its revenue and was generally considered a massive success story.
It notably made big headlines back in 2008, when Michelle Obama wore one of the brand's dresses for her appearance on The Tonight Show with Jay Leno, shortly before her husband, Barack Obama, won his first US presidential election. Leno, referring to reports that Republican vice presidential candidate Sarah Palin had a clothing budget of $150,000, asked Obama if her dress cost $60,000.
"Actually, this is a J.Crew ensemble," she replied. "Ladies, we know J.Crew. You can get some good stuff online!" (The brand had another big cameo with the Obama family at the 2013 inaugural.)
But these days, once-loyal fans complain that J.Crew has strayed too far from its strengths, ignoring the middle-market basics the brand was built upon and moving toward more aspirational, adventurous designs. The styling became too eccentric in its much-beloved catalogues, drawing the ire of customers who blamed—deservedly or not—creative director Jenna Lyons. The company also has dealt with allegations that the quality and fit of its products have deteriorated.
Sikhounmuong has a big promotion today, but he certainly has his work cut out for him.