In space, no one can hear you moan.
Pornhub, the global leader in streaming pornography, is asking its fans for $3.4 million to launch two "sexplorers"—porn stars Eva Lovia and Johnny Sins—into space to have sex. It would be the first time humans have ever done the deed outside the confines of Earth (that we know of).
Pornhub says the funds will go toward training and equipping a crew, buying space-appropriate video gear, and consulting with scientists. For $50—the "Milky Way" funding level—funders win a one-week subscription to Sins' website. For $150,000—the "Uranus" level—funders win the spacesuits worn by the performers, which include their underwear.
"I've had sex everywhere and pretty much every way that you could imagine," said Sins, whose real name is purportedly Steve Wolfe (not a bad porn name in its own right). "Don't get me wrong. I love what I do, and who I do. But this is a really unique opportunity to break ground in the adult industry."
Indeed, Johnny. And the feat would also be a big step for all mankind, as there is no proof that anyone has had sex in space, let alone adult performers.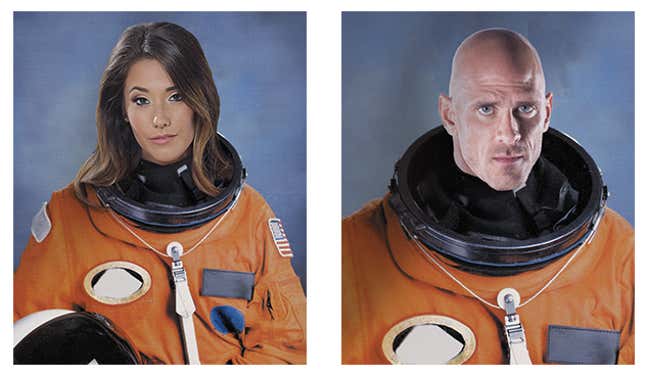 It's rather unlikely that any astronauts aboard the International Space Station (or other space stations throughout history) have the done the deed—but we can't really say that for sure. NASA astronauts Jan Davis and Mark Lee, a married couple, flew on a mission together in 1991. But, according to Slate, the two have been tight-lipped about what happened between them up there.
Weightlessness does not really lend itself to having sex. Body parts move and behave strangely when there's no gravity. So aside from astronauts having actual important stuff to do, like groundbreaking scientific research, it's not very practical (or private) for them to engage each other's docking mechanisms, if you will.
That said, a number of scientists, including the great Stephen Hawking, have talked about the importance of colonizing space. We can't do that if we don't figure out space sex first. Unless, of course, we manage to create artificial gravity, like in all the movies and TV shows.
In 24 hours, the crowdfunding campaign has raised just $8,000. Pornhub has 60 days to raise the other $3,392,000, or funders will get their money back and the dream of space sex will be crushed, for now.