Crystal Pepsi, the clear cola drink that was released with much fanfare and then flopped spectacularly in the nineties, is rumored to be making a comeback.
The whispers seem to have started with a tweet from the competitive eater and Crystal Pepsi fan Kevin Strahle, which shows a letter to him from Pepsi, dated June 8, 2015, saying, "We definitely hear you and your followers and we think you'll all be happy with what's in store."
Pepsi confirmed the authenticity of the letter to Quartz but declined to provide more information or confirm that plans are in the works to bring the drink back.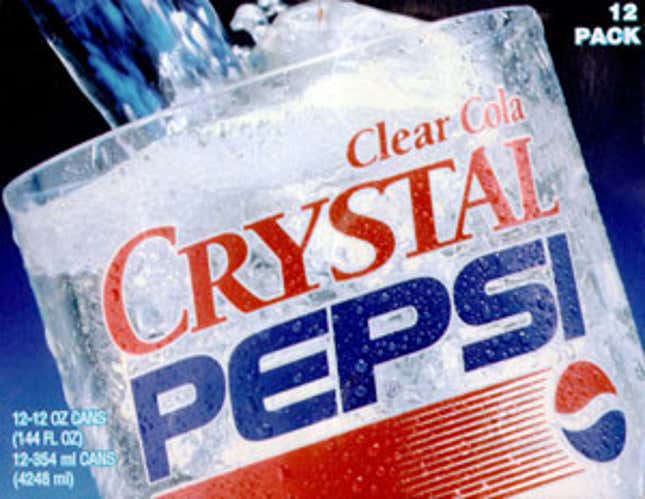 As food giants struggle to adjust to a shifting marketplace and growing demand for healthier foods, Pepsi, which just celebrated its 50th anniversary, isn't alone in trying to cash in on nostalgia. Last fall, Coca-Cola brought back the citrus drink Surge after a Facebook page demanding the drink grew to over 128,000 likes. KFC has reintroduced its iconic character Colonel Sanders and McDonald's is doing the same with a hipsterized Hamburglar.
At the same time, these companies are trying to provide healthier options: Pepsi removed aspartame from Diet Pepsi; Coca-Cola just announced it would cut its calories 10% per liter; and McDonald's is offering kale.
All of this underscores what Pepsi CEO Indra Nooyi said in April to analysts: "I think we have a challenge these days to really think about what is the definition of 'good for you' from a consumer perspective."
With Crystal Pepsi, the company may be trying to hit both trends. Back in the 1990s, the product was marketed as a more natural version of soda. Its 1993 Superbowl commercial, set to the tune of Van Halen's "Right Now," opened with the sentence, "Right now nature's inventing better stuff than science," flashing over an image of a naked infant standing on what appears to be a sea floor. It tells the audience that "right now artificial doesn't feel right." (Pepsi declined to share the drink's ingredients list.)
The commercial was later spoofed on Saturday Night Live with a fake commercial for "Crystal Gravy."
Crystal Pepsi was far from the only clear soda on the shelves in the 1990s: It shared space with Clearly Canadian flavored seltzers (which, it was announced last month, is also making a fan-driven return) and Coke's Tab Clear cola, among others.
But Pepsi's was a short ride on the wave of the nineties' clear beverage trend—by April 1993, Crystal Pepsi's future was already dimming. "The prospects for Crystal Pepsi, PepsiCo Inc.'s clear cola, are getting cloudy," the Wall Street Journal reported, noting consumer disappointment with the taste, which was not identical to original Pepsi, as many expected.
Soda sales are now in their tenth year of decline—significantly worse than where they were in 1992, when they had just slowed. But whether Crystal Pepsi will give the brand a boost is not as clear as the beverage.
The photograph above was taken by Anthony Surace and shared under a Creative Commons license on Flickr. It has been cropped.