Nike's new, eight-year deal to serve as the exclusive apparel provider to the NBA was only announced yesterday (June 10) but has long seemed inevitable—and not just since March, when Adidas said it wouldn't renew its contract with the league. No, this Nike deal feels like it's been coming for years.
Adidas has been the sponsor since 2006, and Reebok owned the rights for years before it. Meanwhile, Nike has steadily taken over the market for basketball apparel and footwear.
Nike is rooted in running shoes, but basketball is also part of the brand's DNA. It was Nike that signed a young Michael Jordan, and a year later released his signature sneaker, the still-popular and iconic Air Jordan I. The company also has claims on the original signature basketball sneaker, the Chuck Taylor All-Star, thanks to its acquisition of Converse in 2003.
Nike has now had 14 straight quarters of double-digit sales growth in its basketball products. Last year alone, it sold $340 million worth of its signature LeBron James sneakers, $195 million of its Kevin Durant sneakers, and $105 million of its Kobe Bryant models.
Although they don't rival the total sales of running shoes or casual-athletic sneakers—the kind moms love—basketball shoes also happen to be one of the fastest-growing categories in athletic footwear generally. That kind of growth has a powerful effect when you own 90% of the market for basketball sneakers.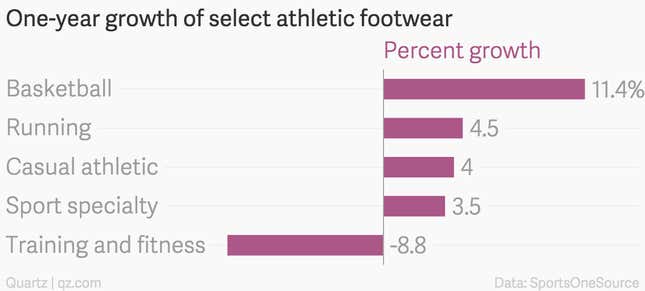 Nike's NBA deal, which also covers the WNBA women's league and the NBA's development league, is valued at an estimated $1 billion, according to ESPN.
The sponsorship, which starts with the 2017-2018 season, also will set a new precedent. For the first time, the sponsor's logo will appear on the NBA's jerseys. That means every team jersey will carry a swoosh, which is obviously great for Nike, but works out great for the NBA as well: A recent report by Millward Brown, a brand-strategy consulting group, estimated Nike's brand value as the highest in the apparel world, while a separate study of teens by investment bank Piper Jaffray found that Nike was the preferred clothing brand among upper-income US teens. That swoosh may very well help to actually sell more NBA jerseys.