An in-depth survey of 6,200 US teens by investment bank Piper Jaffray offers two big takeaways: Teens, led by upper-income girls, are moving quickly away from denim and toward a life of athleisure spent in soft, stretchy sweatpants; and Nike is probably where they'll be buying those sweats. (The survey, released on April 15, calculated "mindshare" based on teens' votes for their preferred brands and trends.)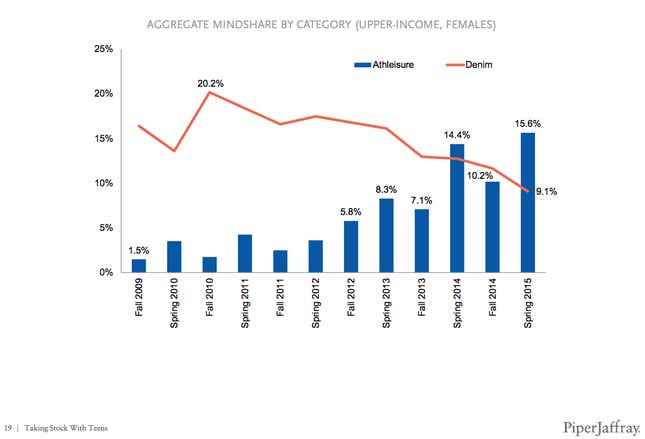 The top fashion trend for the group was wearing Lululemon leggings, while among upper-income boys it was Nike Jordans (which also rule on eBay's valuable sneaker market), followed by jogger pants.
The data are just more evidence that comfy sweats are completely taking over and despite the insistence of naysayers concerned about the sartorial well-being of Americans, they're basically the jeans of the next generation. They even have their own premium category.
The survey also found that Nike was by far the favorite brand among all upper-income teens.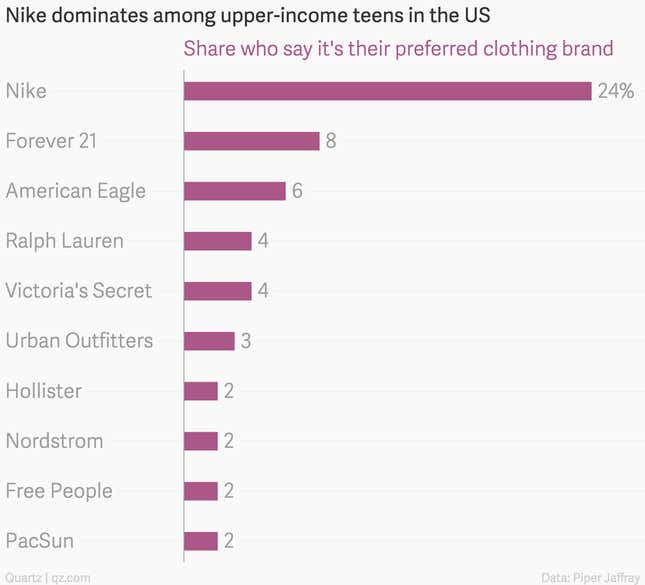 The firm evidently felt confident enough in Nike as a result of the survey that it upgraded its rating on the company's stock.
"The single biggest take away from the survey is that athletic, as a category, continues to make new highs and NIKE [sic] is leading the charge," its analysts said.
Nike already owns the sportswear market in the US, and the growing popularity of that market overall puts it in a good position to keep growing.
Let's face it: there's just no running away from athletic apparel.