This fall will bring new temptations for male enthusiasts of "soft dressing"—as designers try to convince men to embrace the increasingly common practice of wearing athletic clothing in everyday life, and even to the office. (Also see: "athleisure.")
In recent years, women wearing form-fitting leggings and yoga pants beyond the gym showed retailers the wild potential for the category. Thanks to stretchy fabric with lots of give, fits are less tricky. The same technical fabrications can be utilized season-after-season. And perhaps most importantly, customers have shattered the price ceiling for workout wear and proved that a triple-digit price tag for workout gear—and sometimes well past it—is no longer unthinkable.
Now, companies such as Gap, J. Crew, Net-a-Porter, and Lululemon would like men to get in on the fun. Enter the sweatpant. Yeah, that's right: sweatpants. Any man who has dreamt of wearing his sweats to work will have even more compelling reasons to believe it's okay to do that this fall.
We're here to tell you: It's not.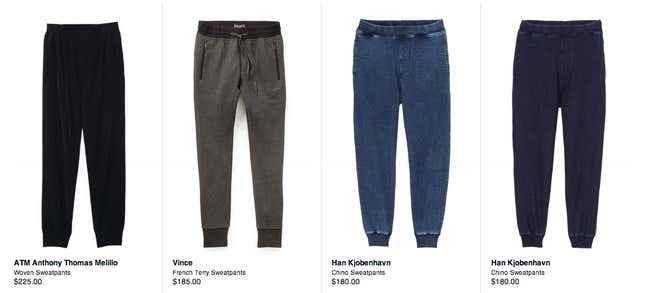 But designers showed them at Fashion Week!
That's true. Even mainstream fashion designers such as Michael Kors and Ralph Lauren included sweatpants in their Fall 2014 menswear collections. Kors described the soft, layered look to Style.com as "the crushing of Wall Street." Be that as it may—and as cozy as these guys look—it's hard to imagine them crushing anything other than a latte in those drawstring cashmere pants.
The unfortunate truth is that most grown men look better in something a little more structured. But the American football star Victor Cruz wore them to Men's Fashion Week in Paris, and he is the future of fashion consumers, you say? That's right. But he's also a New York Giant, and is frequently photographed in big-boy pants too. He probably should have worn them to the Lanvin show (above)—or at least gone with black.
I like how they convey my nonconformist attitude
Wearing sweatpants to work is not the same as Occupying Wall Street or dropping out of Harvard Business School—especially now that mainstream retailers are pushing them, and they can cost upwards of $800.
Actually, studies have shown that some people perceive sweatsuit-wearers as wealthier and more authoritative than those who are overdressed—but a person must already possess authority for sweats to translate as bucking the societal saddle of conformist dress codes. (Otherwise he probably just looks unemployed.)
But does a guy who has established his wealth, authority, and power really need to wear sweats just to demonstrate that he can get away with it? I don't think so. No one likes a smug guy in sweatpants.
How come women get to wear leggings and yoga pants everywhere?
Tough one. Women also wear skeleton-contorting stiletto heels and gut-crushing Spanx, but men aren't breaking down the door for equal-opportunity access to those. If we're making a rational dress argument here, it may be better for men to acknowledge that aside from tuxes at summer weddings and neckties in general, they have had it pretty good when it comes to norms for logical, functional, comfortable clothing. Maybe just let the ladies have this one.
Regular pants don't let me show off my sneakers
I doubt that. But if you have shoes that are so special that you fear the hem of traditional trousers or jeans will impede their power to amaze the general public (or make you look like this), there's another option.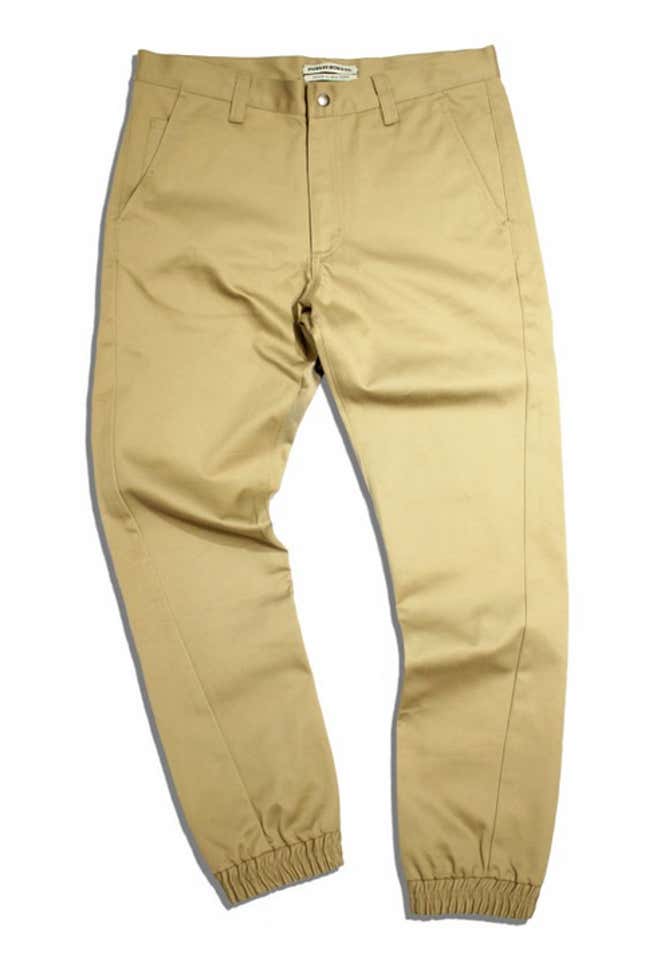 "Jogger pants," like sweatpants, are unstructured throughout the top and legs, and taper to an elasticized cuff. The distinction is that jogger pants are not made of knit fleece, but rather of woven fabrics such as chambray, cotton twill, and even herringbone.
This is at least what my dad would call "a look," but I would still advise caution: While it's one that can definitely work for some guys, it's also easy to veer into sloppy territory. If you need guidance, look to Maxwell Osborne and Dao-Yi Chow, the designers behind the New York-based label Public School. Or you can just cuff your jeans.
But they're so comfortable
You're right about that. It's possible, however, to look a little too comfortable.

Of course there are exceptions to every rule, and confidence can take you a long way. But still, it's probably best to leave the sweatpants at home.
Or at least relegate them to Sunday. No matter what retailers tell you, they're still sweatpants.