A decade ago it would've been unimaginable for a pair of sweatpants to be as expensive as an iPod, let alone rival a MacBook. Sure, premium denim brands such as APC were convincing people to lay down serious cash for jeans. But sweatpants were meant for a jog, or perhaps a lazy Sunday.
In the late 2000s, premium sweatpants began creeping into designer collections, and buying guides began touting the virtues of $400 sweats with high-end materials and fabrications. Now, the high end in designer sweatpants routinely runs upwards of $800, and a trip to just about any multibrand luxury retailer will reveal racks and racks of upmarket sweats with eye-popping price tags.
"It barely existed literally three years ago," says Marshal Cohen, chief fashion industry analyst at research firm NPD Group. "Now everybody and their mom is in the active bottom business."
The high-end market has yet to peak, Cohen says. Premium sweats are too cool, and more importantly too comfortable, for the frenzy to end anytime soon. While both women and men are giving in to this softer, stretchier side of dressing, it's really on the men's side that the pricey, premium bottoms are flourishing.
In fact, the $800 sweatpant offers a useful prism through which to understand men's fashion right now. It reflects the changing male attitude toward clothing, the cultural factors shaping the way guys dress, and the shifts in the retail landscape affecting designer pricing. Here's everything you need to know.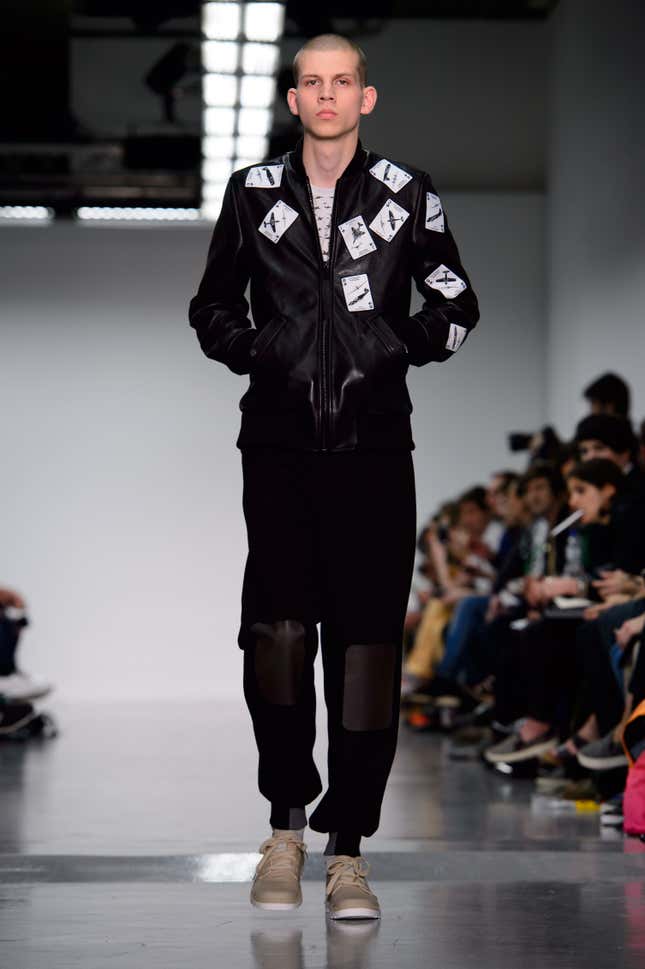 Is this really happening?
Yeah, it is. Online retailers selling designer clothing, such as Mr. Porter and Ssense, now have entire sections devoted entirely to sweatpants. Mr. Porter, which leans toward the high end but also carries mass-market brands such as J. Crew and Club Monaco, currently has 43 pairs of sweatpants for sale. Ten of those are $820 or more.
Where did it come from?
The apparel trend known as "athleisure" has brought activewear and "soft dressing" out of the gym and into the office and beyond.
On top of that, fashion brands have increasingly been pulling influence from streetwear, which mixes elements from California's surf-and-skate scene, hip-hop, and urban culture. Sweatpants are a key feature.
The result is designers of all sorts, from Christopher Raeburn to Givenchy, experimenting with sweats.
None of this would matter if there weren't a market for men's $800 sweatpants, but there is. Guys are increasingly into fashion and willing to spend big money on it. Retailers are paying attention.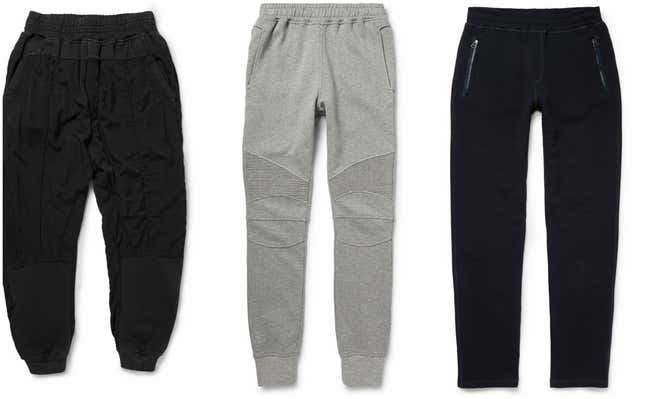 What are $800 sweatpants like?
They're not terribly different from mass-market sweatpants—just nicer, and often with more details. The Haider Ackermann sweats on the left have a dropped crotch and a sharp taper as they move toward the ankle, creating a distinct silhouette. The Balmain pair in the middle take inspiration from motorcycle pants with the ribbed knee details and seams. The pair by Lanvin on the right are made of a textured, bonded cotton-and-polyamide blend, and have zippered hip pockets. Others have bold graphic elements (another streetwear reference), or cargo pockets. You'll notice, though, that they still have the hallmarks of sweatpants: a soft, unstructured appearance, an elastic waistband, and a stretchy knit fabric.
While these are all cotton or cotton blends, pretty much any knit material can be used. You'll see everything from merino wool and viscose to silk-cotton French terry. The really expensive ones, such as this $1,740 cashmere pair from Berluti, use more luxe fabrics.
I get why cashmere sweats cost so much, but how can cotton ones be so expensive?
A number of variables go into how fashion brands and retailers set prices. But here are the key factors:
First, the materials and fabrication are much more expensive than they are for mass-market sweatpants. Nicer fabrics (even cottons) cost more, and because high-end brands make relatively small quantities, producing just hundreds or fewer of an item, economies of scale work against them.
Prices of designer items have also been rising for years now. For the sake of argument, let's say materials cost $50 and sewing costs $50, so the total cost is $100 to make the garment (similar to the prices in the process described in a New York Times piece on khakis). For a high-end designer item, those prices are not unusual.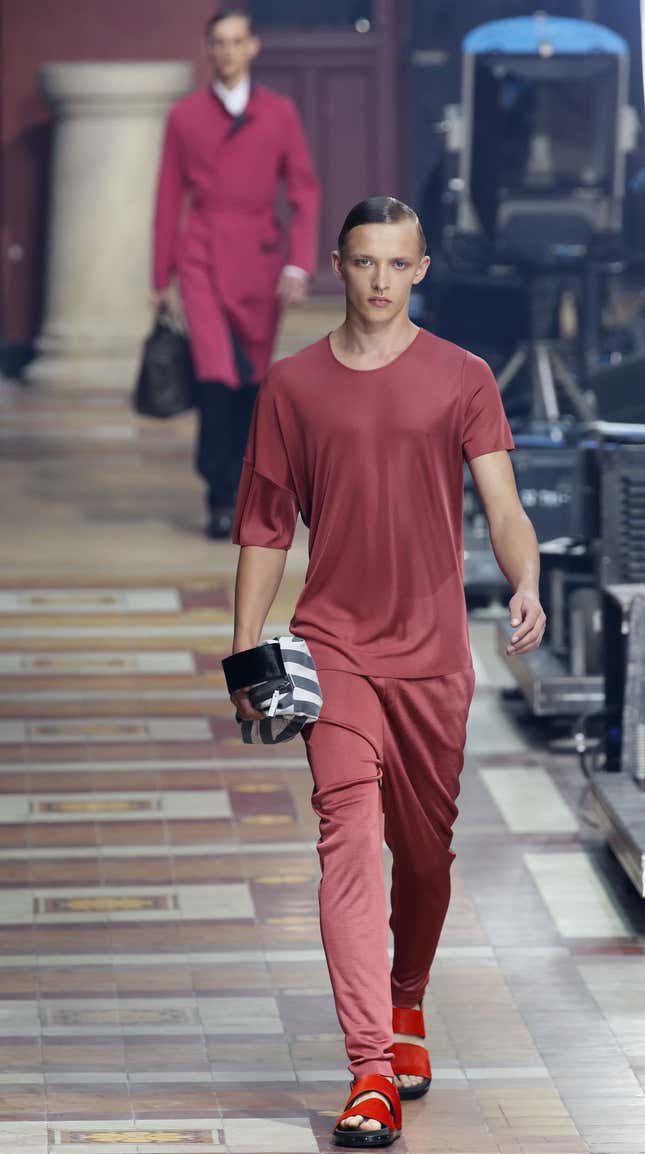 Next, you have to account for the traditional markup structure. Common practice is for the designer to mark an item at 2 to 2.5 times its manufacturing cost. That's the wholesale price she sells it at. Those $100 sweats now cost up to $250.
The retailer then buys it at wholesale and marks it up again—another 2 to 2.5 times to the retail price. That brings the price all the way up to $625.
That still leaves quite a gap to get to $800 or above, which brings us to the remaining factor: perception.
If the brand does any marketing, you're chipping in your share of that. Then there's the allure of exclusivity: According to the Veblen goods theory, as an item's cost goes up, so does its value as a status symbol. Brands commonly raise prices as a strategy to actually attract customers.
"If you want the product to look and feel expensive, you've got to make it expensive," says Cohen. "It's not the content. It's the packaging and the messaging."
Going back to our hypothetical sweatpants, the designer might increase the price to $350 wholesale. With the normal retail markup, that price tag will now be $875.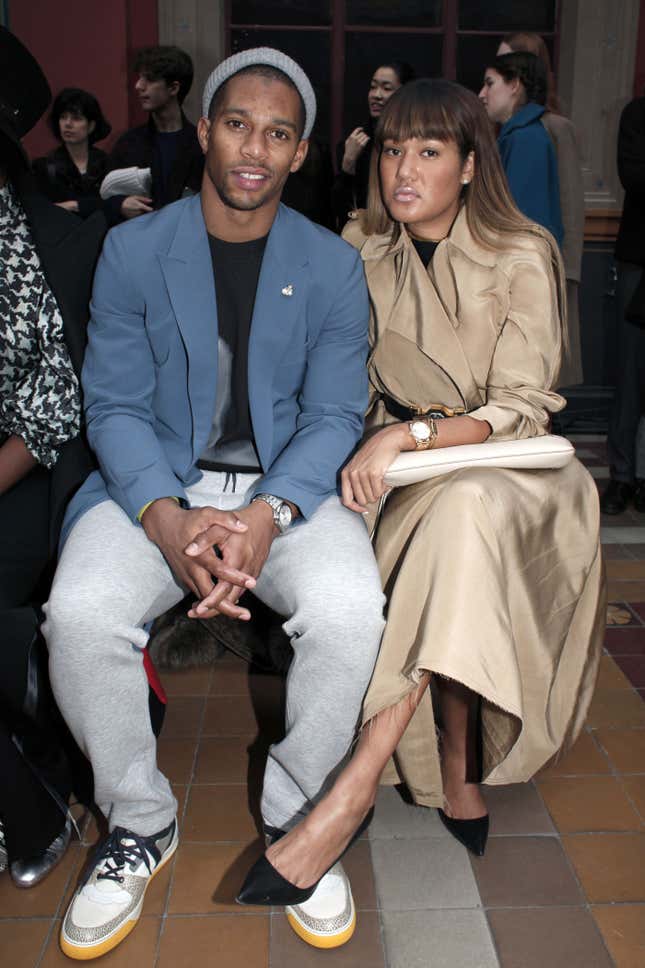 Who wears sweatpants in public, expensive or otherwise?
Kanye West wears them. Jude Law wears them. A$AP Rocky wears them. Cool basketball players wear them. Eugene Tong of the monochrome dreamcoat wears them. Normal guys wear them.
In short, lots and lots of people wear them, and find creative ways of doing so. Football player Victor Cruz, for instance, has been known to throw on a blazer over sweats, adding a bit of structure to balance out the soft bottoms.
OK, OK. But why would I wear sweatpants out of the house?
Because you can. Attitudes toward dress have been growing ever more relaxed since blue jeans came to prominence in the years following World War II. Wearing sweatpants in public—as actual clothing and not just for lounging or playing sports—is the most recent extension of this decades-long trend toward dressing down. In fact, some argue that sweatpants are taking the place of jeans, and they're certainly eating into denim's market.
"Because of the ability now to wear them as everyday attire, they've replaced the high-end jean market," says Cohen. "That same customer has migrated over to the active bottom."
And don't be shy about wearing them to work: Some research shows that, done right, dressing down can actually make you seem wealthier and more authoritative.
Whether or not this an acceptable turn of events is another matter. Some people are adamant that men should not be wearing stretchy pants in place of their denim.
If you're already in yours though, you're probably too comfortable to care.