When Volkswagen acquired Porsche in 2012, the Wolfsburg-based automaker had reason to feel smug. The acquisition marked the end of a multi-year battle for control, with both German firms trying to acquire the other. Volkswagen won in the end (paywall).
This is not to say that the marriage has been a happy one. Indeed, earlier this year Ferdinand Piëch, grandson to Ferdinand Porsche, tried to oust Volkswagen CEO Martin Winterkorn before getting himself dismissed as the combined group's chairman instead.
The drama has somewhat obscured a rapid rise in fortunes at Porsche. In the past three years, Porsche's operating profit has soared as the group's flagship VW brand has dipped. Last year, for the first time, Porsche made more money than VW, even thought VW sold 25 times more cars (4.6 million versus 187,000).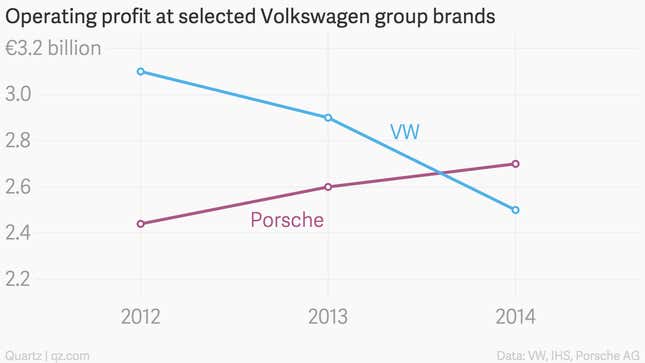 According to Tim Urquhart, an analyst at IHS, a research firm, Porsche is on track to do the same again this year. "Porsche is well on target to sell more than 200,000 units in 2015 and will no doubt generate a significantly larger operating profit than last year's figure of €2.7 billion ($3 billion)," he said. VW made a profit of €2.5 billion last year.
What's driving this surge of sales for Porsche? A lot of it has to do with the Macan, a compact SUV. Porsche was one of the first luxury automakers to branch out in sports utility vehicles, something every other top end manufacturer, including Volkswagen-owned Lamborghini, is now emulating.
The Macan is likely to become Porsche's best-selling model this year—IHS thinks it will sell 78,000 cars, versus a 67,000 forecast for the bigger Cayenne SUV.