A work stoppage to protest the sale of two ferry boats resulted in widespread chaos at ports, roads, and tunnels in France and England today—and then the industrial disruption ran headlong into Europe's burgeoning immigration crisis.
Striking French sailors and dockworkers in Calais forced the closure of the city's port, backing up passenger and freight traffic there and in Dover, on the English side of the busy cross-channel route. The workers from MyFerryLink are protesting possible job cuts after two ferries were sold by their parent company, Eurotunnel, to rival firm DFDS instead of a workers' cooperative.
To add to the disruption, some strikers made their way to the nearby train tracks outside of the French end of the Channel Tunnel, which is also run by Eurotunnel. They burned tires and other debris. Eurostar was forced to cancel its services for the day, leaving throngs of passengers stuck at St Pancras in London and Gare du Nord in Paris.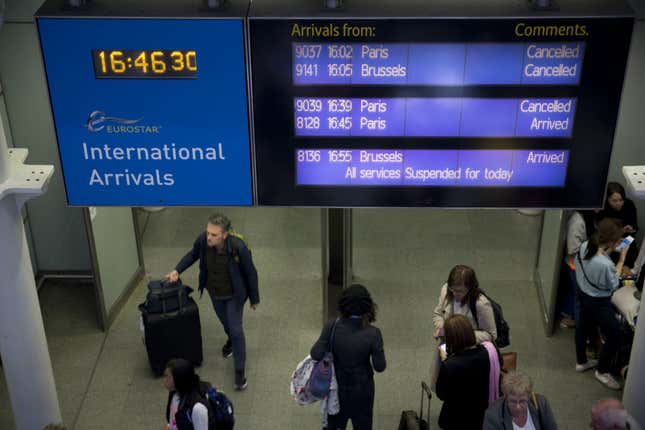 With both sea and rail connections closed, cars and trucks are backed up for miles around Calais and Dover. And that's how an industrial dispute got mixed up with Europe's immigration crisis.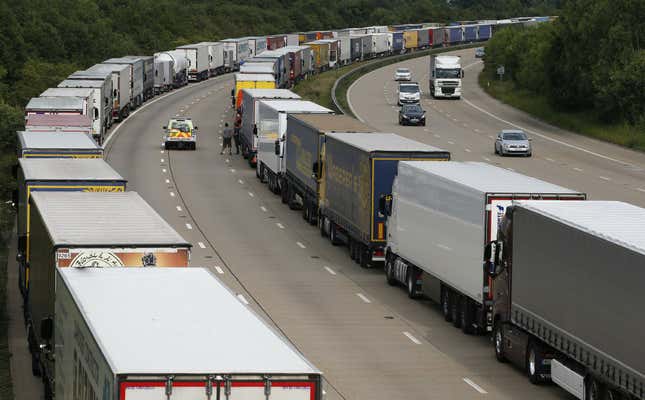 Some 3,000 migrants are camped out in and around Calais, looking for ways to cross over to the UK, where the economy is stronger and it is easier to find work. A popular tactic is to break into freight trucks and make the crossing as a stowaway. Around 19,000 attempts to cross the Channel in this way have been stopped by authorities so far this year, more than double the same period the previous year, according to the BBC.
Now, with such a huge traffic jam snaking away from the port and leaving many cars and trucks at a near-standstill, migrants are fanning out in search of a ride:
One truck driver who spoke with the Guardian said he saw desperate migrants with knives and crowbars prowling the road and breaking into vehicles. When he tried to make a switch to the train, he was slowed by the fires set by striking workers outside the terminal, who for good measure "tried to throw things at me, throw things at my truck because I went through their barricade."
The UK's Foreign Office has updated its advice for Brits in France to reflect the situation around the port:
There are large numbers of illegal migrants in and around Calais, who may seek to enter the UK illegally. Although local police patrols have been reinforced, you should keep vehicle doors locked in slow moving traffic and secure your vehicle when it is left unattended.