Taxi drivers around the world are unhappy about the rise of Uber, but French taxi drivers have lashed out against the car hailing app with particular anger and violence. A massive taxi strike today has turned Paris and other French cities into chaos, with drivers flipping over cars, burning tires, and blocking access to airports. At one point police in riot gear used tear gas to suppress the violence.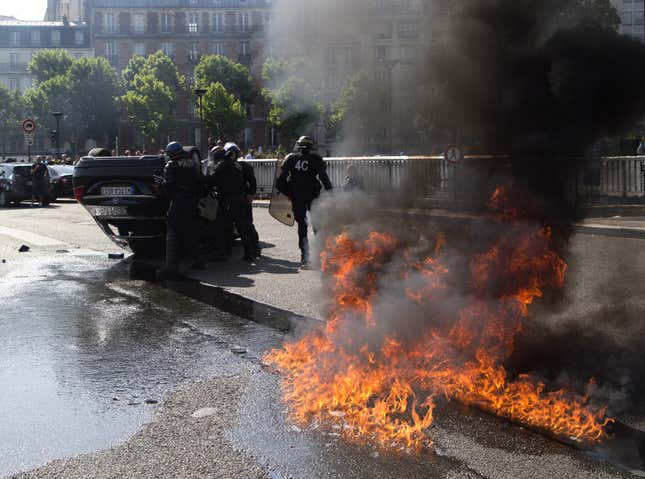 The drivers are protesting over expansion of the UberPOP service (similar to UberX) which connects passengers with private drivers, arguing that it unfairly competes with registered taxis, whose drivers have to complete extensive training and pay thousands of euros for a license.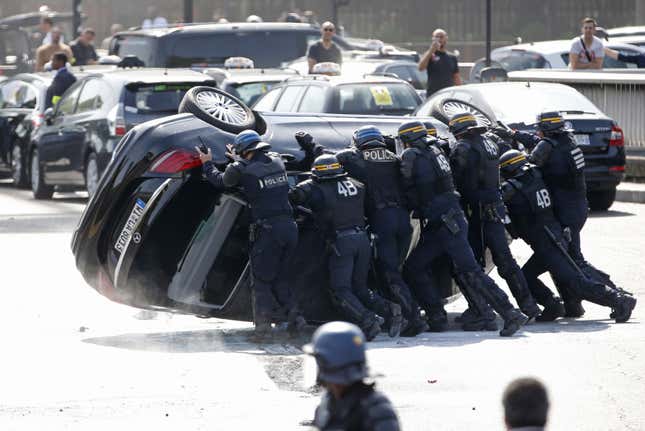 Uber also finds itself at odds with the French interior minister, who ordered Paris police to ban the activity of UberPOP to quell the chaos on the city's streets. The minister, Bernard Cazeneuve, also called for widespread legal action against the company. French prosecutors have already launched nearly 500 cases related to complaints about the service.
The cabbies have cut off car access to the Paris Charles de Gaulle and Orly airports, and train stations in Marseilles and Aix-en-Provence. The Paris airport operator advised passengers to use local trains instead. Among those caught in the chaos was US singer Courtney Love, who tweeted out her outrage: