Many across the US—and the world—this weekend are celebrating the Supreme Court's ruling that same-sex marriage is now legal in all 50 states.
In the US, one group has an extra reason to celebrate—and batten the hatches for a windfall. The caterers, calligraphers, stationers, florists, dress shops, tailors, bands, bakers, photographers, videographers, and wedding planners who make US nuptials into the extravaganzas they traditionally are will soon have even more marriages to support their businesses, and that's good for local economies.
The Williams Institute, a think tank based at the UCLA School of Law, estimates that legalizing same-sex marriage nationwide could be worth a total of $2.6 billion in spending, leading to nearly $185 million in state and local tax revenue, and creating some 13,000 jobs.
Prior to Friday's ruling, same-sex marriage was still outlawed in 13 states, which researchers at the Williams Institute estimates locked up more than $500 million in consumer spending. In Texas, the largest of those states, researchers estimate (pdf) that 23,200 same-sex couples will choose to marry in these first three years following legalization, adding a $116 million boost to the economy in the first year alone.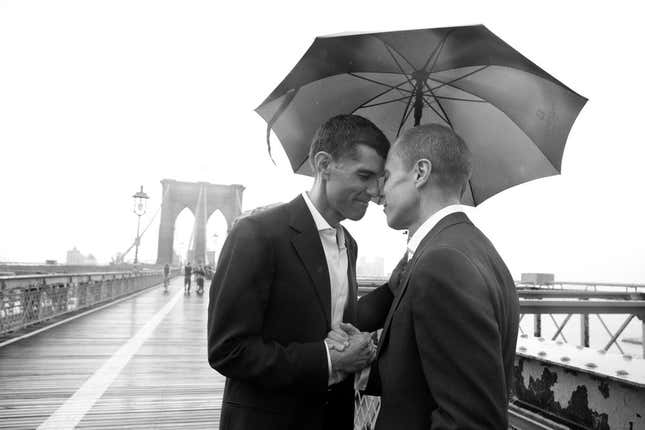 Kelly Guenther, a New York photographer who has been shooting weddings since 2002, tells Quartz that New York's 2011 passage of same-sex marriage was a boon for her business.
"When gay marriage was passed [in New York], I definitely got more calls about couples coming in from out-of-state to get married," says Guenther (who is married to a woman herself). She estimates that in 2013, after same-sex couples had ample time to plan their weddings in New York, about 70% of the celebrations she photographed were gay weddings. Now, she says that's balanced out to about half.
While capturing a couple's love in the moment is always Guenther's priority, she says there are some differences when it comes to shooting gay weddings.
"It's not as traditional, so to speak," says Guenther. "They're very quick to let me know like, 'We won't be doing the daddy-daughter dance.'"
One tradition, however, carries a great deal of weight.
"The signing of the marriage contract," says Guenther. "It's huge. At a straight wedding they barely even think about it. At a gay wedding it's a very significant moment that I need to be present for." Now, same-sex couples in all 50 states will be able to sign that contract.
Guenther, who was born in Toledo, Ohio—one of the 13 states where gay marriage was still illegal before the Supreme Court ruling—says she noticed an old high school friend expressing joy on Facebook on Friday, because she can finally marry her partner after 22 years together.
"I wanted to let her know, 'you make it legal, I'll fly home and shoot your wedding,'" says Guenther. "It's so emotional, seeing people who've been together 15, 20, 25 years. That's why I got into this business."