Saint Laurent's latest menswear collection was titled, "A Tribute to Contemporary Californian Surf Music Culture," but from the moment the first model hit the runway, it was clear that something else—or really someone else—was as much an inspiration: Kurt Cobain.
The longish blonde hair and white plastic infinity sunglasses are unmistakable at this point, as is the mishmash of flannel, ripped jeans, and grandpa cardigans in competing colors, suggesting a dressing routine that entails picking up whatever is on the floor nearby. Cobain's style, in that regard, makes him an ideal muse for Hedi Slimane, Saint Laurent's highly-successful creative director. Cobain's haphazard way of dressing fits neatly within Slimane's approach to design.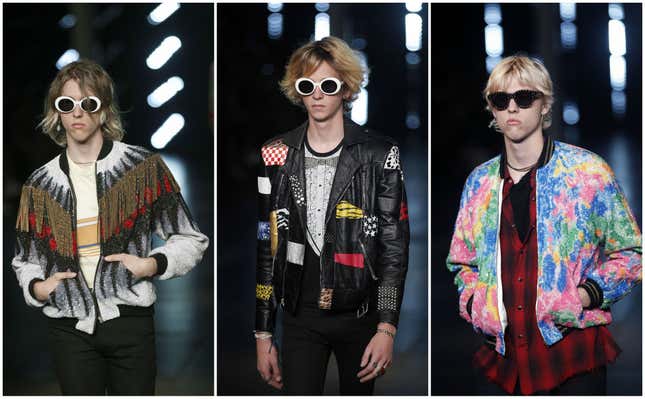 Since taking over at Saint Laurent in 2012, Slimane has predominantly made clothes that some critics have suggested are essentially reproduced vintage finds. His designs reference the faded flannels, tattered jeans, and babydoll dresses that clutter the racks of thrift shops in New York and Los Angeles, which Slimane has made his home. Those are exactly the kind of clothes Cobain routinely wore, only Slimane's versions have high-end fabrication and exorbitant price tags.
Slimane's collections have also consisted more of a random assortment of individually salable pieces than a set of garments designed around a concept or theme. He's been called a curator and a stylist as much as a designer. While that approach has helped to fuel Saint Laurent's sales, it can result in collections that look somewhat chaotic in their styling. Sound like someone else's mode of dress?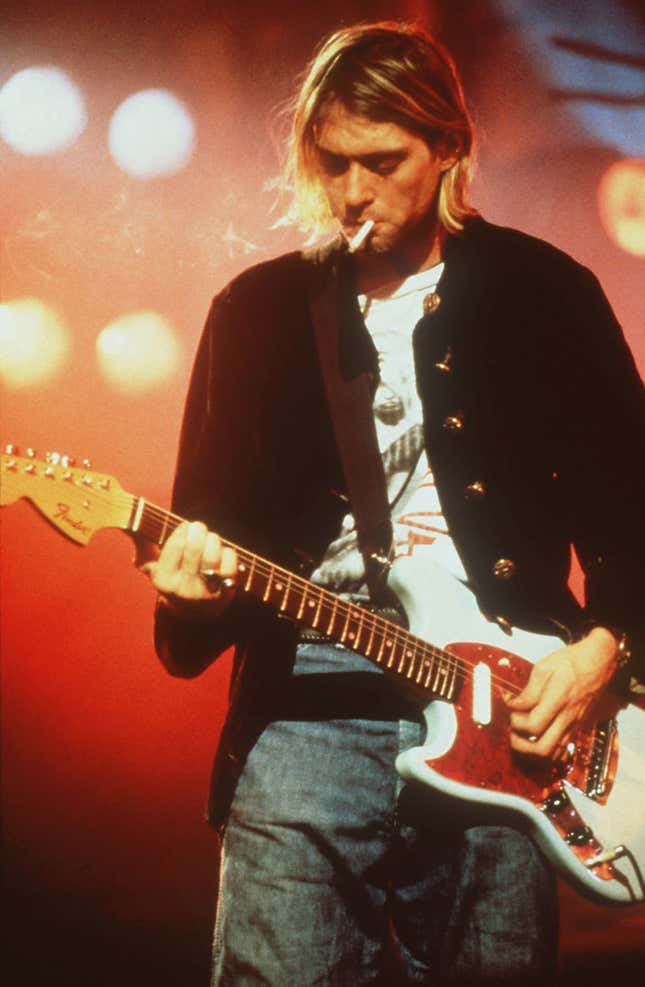 Slimane has partly built his career on channeling the style of music icons, such as Cobain and his widow, Courtney Love, whom Slimane featured in an ad campaign for the brand. Slimane's clothes have alluded back to Cobain and grunge a few times, as in Slimane's second collection for Saint Laurent.
Slimane is by no means alone in being enamored with Cobain's style. Since his rise to fame with Nirvana in the Nineties and in the decades following his suicide, the king of disaffected angst has popped up again and again in the work of fashion luminaries, including Marc Jacobs and Raf Simons. Japanese designer Takahiro Miyashita practically idolizes Cobain. Dries Van Noten devoted his spring-summer 2013 women's collection to exploring Cobain's look.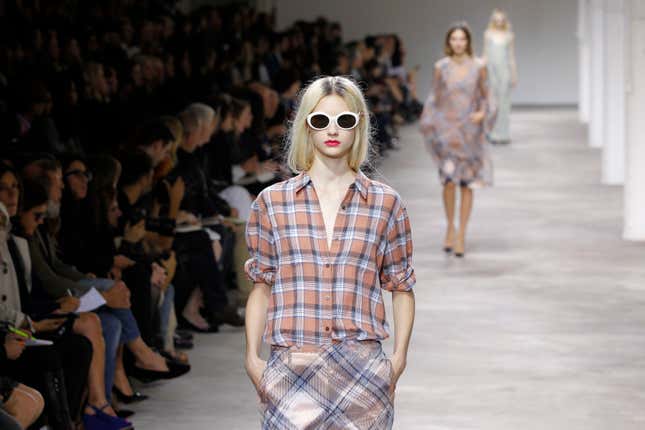 The paradox of all this, obviously, is that Cobain would have hated being a muse to any high-fashion label. In 1992, when Marc Jacobs sent Cobain and Love his famous grunge collection for Perry Ellis—the one that would establish Jacobs's name as well as get him fired—the couple didn't take kindly to the gesture. "We burned it," Love told WWD (paywall) in 2010. "We were punkers—we didn't like that kind of thing."
The closest Cobain probably came to embracing high fashion was in a photo shoot for Mademoiselle magazine, where he presaged his later influence on Dries Van Noten, and wore a piece from Van Noten's women's collection.