When the global fashion group Kering released its first-quarter earnings report (pdf) on April 21, it offered investors good news and bad news. The bad news was that sales of Gucci, its star brand, were down 7.9%, making it Gucci's worst quarterly performance in years. The good news was that sales at another fashion house it owns, Saint Laurent, were up an impressive 21.2%.
A variety of factors hurt Gucci, including a slowdown in luxury-hungry China and a deliberate drawback of its wholesale business. But as Saint Laurent and brands outside the Kering umbrella, such as Louis Vuitton, have proved, strong sales in this economic climate are still possible. You just need to make stuff people want to buy. Gucci's problem in this arena happens to be the same as Saint Laurent's strength: the label's creative director.
Or in Gucci's case, its former creative director. The brand is still dealing with the tail end of Frida Giannini's tenure as creative lead. Gucci ousted Giannini and its chief executive late last year after a period of underwhelming performance, but because of the way the fashion production calendar works, her last collection is what's currently in stores. Giannini's style was very much geared toward the European upper crust—all sleek, glossy luxury, like the fashion equivalent of a private jet.
It wasn't working, and so Gucci raised its accessories designer Alessandro Michele to the top creative role. It is hoping that Michele can do what Giannini couldn't, and if his gawky, romantic, and slightly androgynous debut a couple months ago was any indication, he'll certainly steer the company in a new direction.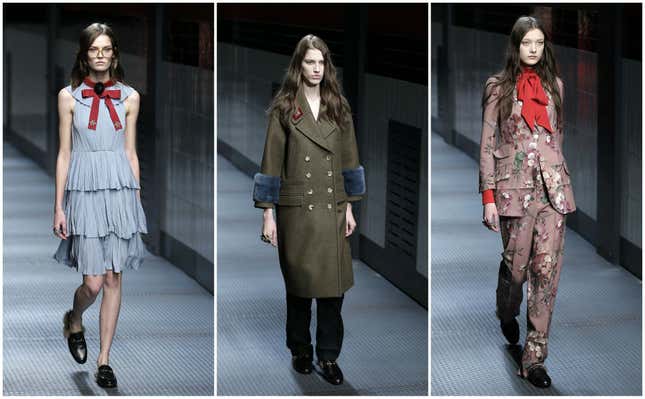 The ideal scenario would be a repeat of what Hedi Slimane did when he took over at Saint Laurent in March 2012 and flipped the brand on its head. Back then it was still called Yves Saint Laurent, and it had a refined, rarefied feel under the guidance of creative director Stefano Pilati and Tom Ford before him. Slimane promptly changed all of that. "Yves" was out, turning YSL to just SL, and Slimane brought in a California grunge-rock aesthetic that was met with both praise and shock.
For Saint Laurent, the move has paid off. In the three years since Slimane took over, sales have more than doubled, and the label's ready-to-wear has new life. Kering's recent earnings report noted the category showed "outstanding performance" and sales were up 32%.
Saint Laurent is a blueprint for what Gucci has underway: jettisoning the established—and very polished—look, for something decidedly more idiosyncratic, essentially the creative director's personal vision for what the brand should be.
It's unlikely Michele will replicate that degree of success. Hedi Slimane was already a legend when he took the helm. But come fall, when Michele's first Gucci goods hit stores, everyone will be waiting to see if his frilly, slightly odd take on the brand will hit—or miss.