Goldman Sachs booked bigger-than-expected profits in the fourth quarter of 2012, thanks in part to its role managing much of the slew of bond deals that hit the market last year.
Fees the bank collected on underwriting—essentially, matching bond-seeking investors with companies that needed to raise money—jumped to $593 million in the fourth quarter, up from $196 million in the same period of 2011. Overall profits trounced expectations as well, nearly tripling from a year earlier, hitting $2.83 billion.
Cynics might view big-bank profits from debt underwriting as another giveaway from global central banks—particularly, the US Federal Reserve. After all, it was low interest-rate policies that set off the corporate stampede to the bond market, as companies sought to lock in low borrowing costs or refinance existing debt. Just check out the surge in issuance—meaning fresh bond deals—of junk (sorry, we mean "high-yield") bonds, for example. (HT: J.P. Morgan Fixed Income Research.)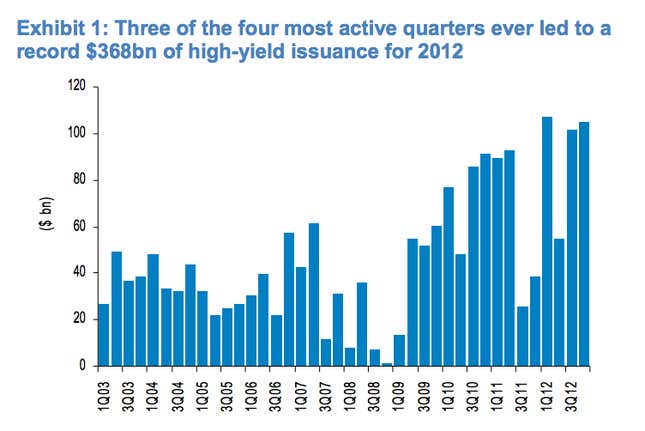 Goldman seemed to have captured its fair share of debt fees on the broad surge in bond issuance, and then some. Citing statistics from research group Dealogic, Barclays banking analysts report that investment banking fees at the 10 largest US banks were up about 15% month-on-month during the fourth quarter. However, while fees from bond-market issuance deals rose only about 1% for those banks, Goldman's debt underwriting fees jumped nearly 27% between the third and fourth quarter. Not too shabby.