Terrorist attacks don't just shake a city's residents to the bone. They have become a force to reckon with for hotels, restaurants, and local attractions that rely on tourist traffic. Tunisia, for example, an economy that has been desperate to grow its tourism industry in the wake of the Arab Spring, has been hit two attacks to its top tourist destinations in the last three months alone, causing thousands of tourists to flee.
The trauma of such attacks undoubtedly lingers, but as the tourism industry and its customers have apparently become more resilient in the wake of these events.
According to Deloitte's 2015 Travel and Tourism competitiveness report for the World Economic Forum, the pace at which the hotel industry recovers after political unrest or a violent event has "shortened significantly" over the last 15 years.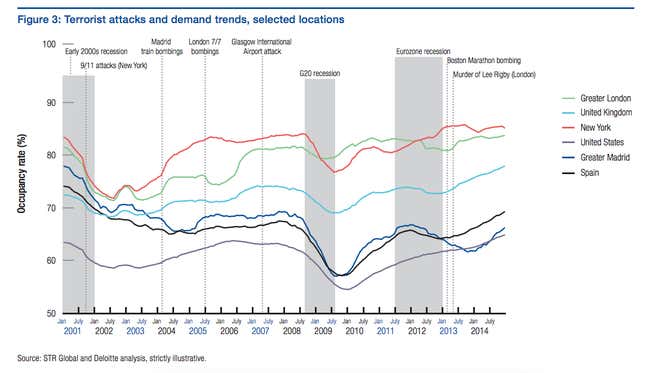 As the chart above shows, it took 34 months for New York occupancy levels to recover from the terrorist attacks of 9/11 in 2001 (45 months for the US overall). Madrid bounced back in 12 months after its train assaults in 2003. And London took nine months to regenerate from the 2005 bombings.
The study points to "a shift in mentality" among consumers and companies to "carry on as normal." This is something that agencies like the World Tourism Organization had already identified. After the 2005 bombings of Sharm el-Sheikh in Egypt, which killed 88 people, the UN's World Tourism Organization agency noted that shifts in tourist activity had been kept "to a minimum" and that "civil society has become aware of the global nature of these [terrorist] threats and have resisted caving in to them."
In the Tunisian coastal city of Sousse, where thirty-eight tourists were gunned down on a beach last week, some tourists opted not to cut short their trip or cancel plans to send a defying message to the terrorists, or because they insisted the destination was still safe.
Other destinations have responded to terrorist attacks by offering deep discounts to attract more customers. In Bali, roughly three-quarters of the island hotels dropped their rates by an average of 37% in the aftermath of bombings in 2002. Similarly in Tunisia, travel agencies like Thomas Cook are offering travel packages at up to half the regular price for tourists who are willing to visit the country this July.