Greece voted overwhelmingly against enduring more austerity in exchange for a new round of bailout funding from its creditors. With roughly 91% of the vote in more than 61% of voter cast their ballot against the deal, in a victory for Greece's left-leaning government and a rebuke to the troubled country's euro zone creditors.
It's unclear if the vote will open a new phase of the half-decade-long debt crisis that has engulfed the Mediterranean nation and shrunk its economy by roughly 25%.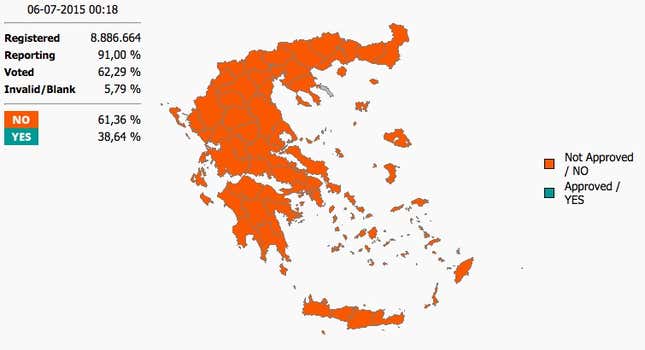 So what comes next? Grexit? (A Greek exit from the euro zone.) The Greek government's chief negotiator with lenders said that there are no plans to switch currencies, and he is ready to restart talks with creditors as soon as possible. Finance minister Yanis Varoufakis suggested earlier today that a new bailout deal was possible within 24 hours of a "no" vote.
But we are more likely to see something along the lines of the state of affairs that's recently been described as Grimbo. (Greece in a state of limbo.) The leaders of France and Germany are set to meet tomorrow to discuss the results of the vote. After so much acrimony, they are unlikely to be in a charitable mood.
Remember, of course, that Greek voters have effectively rejected an outdated, expired proposal from the country's creditors. What sort of message does that send, exactly? The "Eurogroup" forum of euro zone finance ministers, which holds the purse strings for the bulk of Greece's bailout funds, has no plans to meet tomorrow, an official told Reuters. They "would not know what to discuss," the official said.
Greece's central bank is expected to request that the European Central Bank expand the emergency liquidity that's kept the Greek banking system from collapsing amid widespread deposit withdrawals in recent months. A refusal to raise this limit last week is what forced the authorities to close banks, ban foreign transfers, and drastically limit the amount of cash that customers can take from their accounts each day. The country's banks reportedly have enough money to last a few more days, at most.
One thing is for sure, Europe is poised for another go-round of its seemingly interminable high-level talks. German Chancellor Angela Merkel and French President Francois Hollande have just called for yet another summit of euro zone leaders, according to Bloomberg.