Weekly claims for unemployment benefits in the US scraped fresh post-financial-crisis lows for the week ending Jan. 12, falling from a revised 372,000 the prior week. Traditionally, a level below 400,000 is viewed as one that suggests expanding economic growth, so jobless claims numbers are hinting strongly that the largest economy in the world is working up a good head of steam.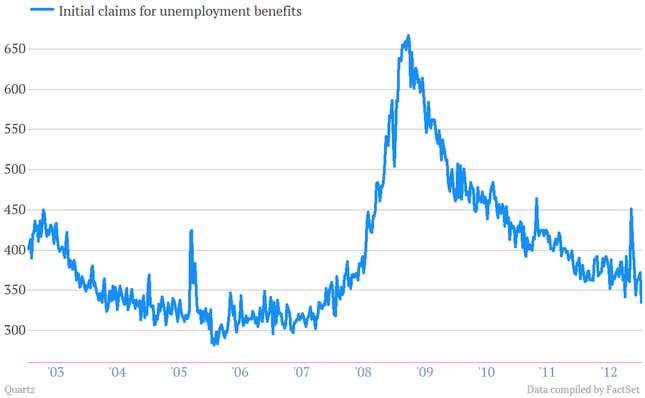 (One caveat on the recent numbers is that year-end data can have some distortions in it. However, even the more reliable four-week moving average is looking pretty good, declining to just below 360,000. Last year it was above 380,000. So the US is clearly going in the right direction.)
Michigan was the state that had the biggest decline in jobless claims with more than 12,000, which was explained by "fewer layoffs in construction industry," according to the Department of Labor. That's incredibly good news for the US construction industry which has been wandering in the wilderness since the housing bubble peaked.
Also on the housing front, fresh data showed new home construction is really starting to pick up, with housing starts jumping more than 12% in December over the prior month.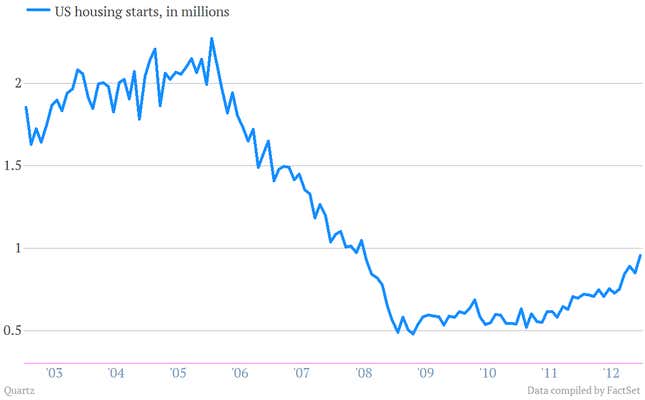 We've told you again and again. The housing story is real and it has legs. If you are betting against it you are fighting the Fed—which is trying to specifically juice the housing market through its purchases of mortgage bonds—and you will lose.