Sniper shots from a silenced rifle ripped through the Moscow air Jan. 16 at around 2:30 p.m., striking reputed mafia boss Aslan Usoyan in the head as he walked out of the high-end Azeribajiani restaurant he had reportedly used as a base of operations.
The death of Usoyan, one of the most important and feared mafia bosses in Russia, disrupted the fragile status quo of the underworld ecosystem, and dominated local news coverage. (Russian national daily Kommersant, below, headlined its front-page story "The Bullet Solution." More coverage in Russian here and here. ) It also raises the prospect of further violence to come and opened up a rare opportunity to shine a light on the underworld economy that has operated in parallel with the Russian economy since the fall of Soviet Union.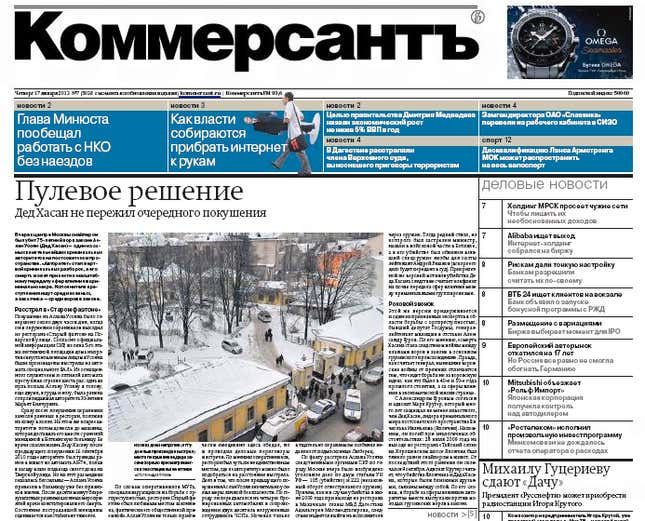 So who was Aslan Usoyan, who was better known by his nickname "Grandfather Hasan?" And why was he killed? Here are five things to know.
Who was he?
Usoyan, believed to have been 75, was a Kurdish Yezidi from the Georgian capital of Tbilisi. Mark Galeotti, a professor at NYU who has spent 20 years researching Russia's mafia told the Washington Post:
Usoyan had a long criminal career, cinematic in scope, Galeotti said. He reportedly was first arrested at age 19 for attacking a policeman, and he went on to specialize in robbery and extortion. In the Gorbachev years, he ran a protection racket, Galeotti said, shielding the aspiring entrepreneurs operating on the black market in return for payment. "So he had the money and contacts to capitalize on the collapse of the Soviet Union," said Galeotti, who described Usoyan as one of the three or four top
figures in the underworld here. "He built a very broad-based criminal network."
Talking to the New York Times, Galeotti elaborated:
Experts on Russian organized crime said his role was that of a banker, holding a common pot of funds, known in Russian underworld parlance as the obshak, for many different gangs. He also mediated in disputes. "I wouldn't say there was anybody more powerful than Ded Khasan" in Russian organized crime, Mark Galeotti…
Who were his enemies?
The Guardian reports that he was believed to be at war with a Georgian crime boss known as Tariel Oniani, known as Taro.
What was the beef?
The Guardian says:
The war has been bloody. Many of those killed were Usoyan lieutenants working in Sochi, home to lucrative construction projects as the resort prepares to host the Winter Olympics in 2014. The most high-profile victim was Vyacheslav Ivankov, nicknamed Yaponchik (Little Japanese), killed by a sniper in 2009. A source in Russia's security services said that Usoyan is likely to have fallen victim to a clan war.

"The assassination carried out on Wednesday was probably the result of Aslan Usoyan's conflict with 'thieves in law' clans headed by immigrants from Georgia," the source told the state-run Interfax news agency.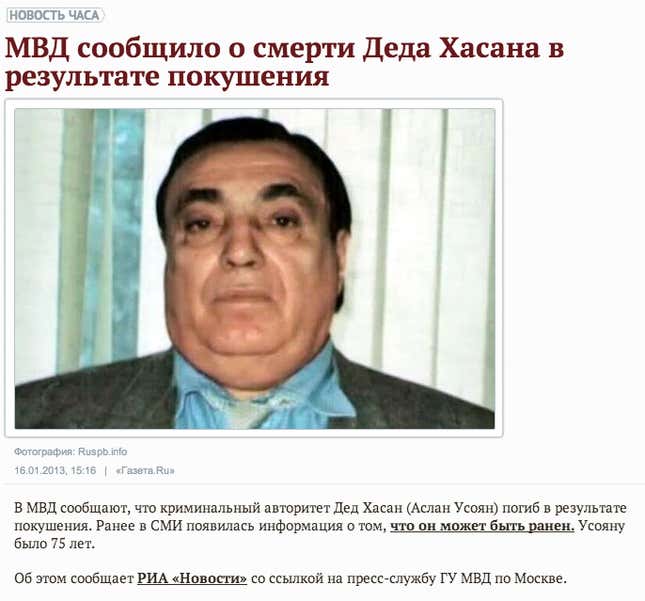 What are "thieves-in-law?"
"The so-called thieves-in-law, a Soviet-era fraternity of convicts that maintains strict codes and rites and disdains any institution other than its own," the Moscow Times reports. Usoyan, Oniani and Ivankov (the "Little Japanese" mentioned above) are thought to be some of the "last senior representatives" of that generation of mob leaders. Usoyan was one of the few thieves-in-law who had managed to adapt to the post-Soviet era, according to Jane's Intelligence Review.
Does this signal a return of the bad old days of the early 1990s, the peak of Russian gangsterism?
Hard to say. Again the Washington Post:
Alexander Mikhailov, a former official in the police, security and anti-drug forces, told the Interfax news agency that he saw Usoyan's killing as the end of a war. "He was quite a significant figure in the underworld," Mikhailov said. "I believe that his murder means the redivision of that market is over."
Galeotti wasn't so sure, suggesting that a settling of scores could ensue. "His nephew will have to assert himself fairly quickly and aggressively," he said. "There could very well be a new round of turf wars."
For a lot more check out Galeotti's great blog, In Moscow's Shadows.