The earnings were good. But the real story in Taiwan Semiconductor's fourth-quarter announcement today was the contract chip-maker's plans to plow some $9 billion into capital expenditures—that is, spending to boost Taiwan Semiconductor's production capabilities. Just shy of $8 billion of that will go towards making products "including 28 nanometer technology units," reports Bloomberg. (The components on chips get more tightly packed as technology advances; 28 nm is a measure of the size of the features—transistors and wires—etched into today's most advanced chips).
The company needed to boost its 28 nm production. Qualcomm, a big chip designer that subcontracts the manufacture of its chips to companies like Taiwan Semiconductor, said earlier this year that it was having to turn to other suppliers because of a shortage of capacity. But Taiwan Semiconductor's stock has been surging in recent months on expectations that it will soon strike a deal to pump out 28-nanometer chips for Apple too. The shares were up about 33% over the last six months, even before today's earnings report.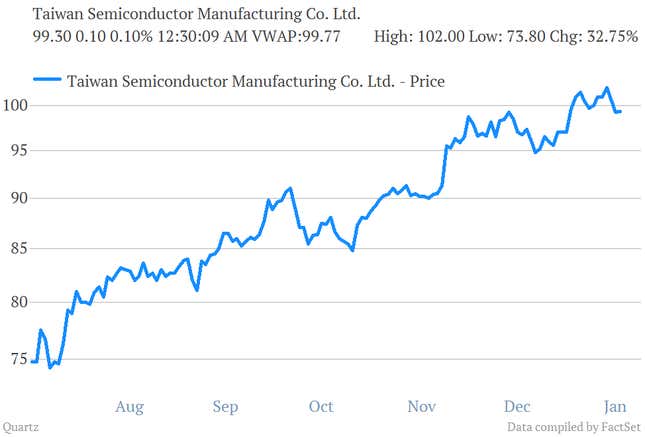 Company officials didn't address the question of supplying Apple today. But the rumors have investors excited. Most recently, a report appeared in the China Times (link in Chinese) that Apple is already planning trial chip production runs with Taiwan Semiconductor.
Nobody seems to know for sure if this is a done deal. But it stands to reason. Taiwan Semiconductor could help resolve Apple's somewhat uncomfortable relationship with South Korea's Samsung Electronics, which currently supplies 32-nanometer chips for Apple's iPhone 5 and its fourth-generation iPad tablet. The uncomfortable part is that besides being a supplier to Apple, Samsung is also its chief rival as a smartphone maker. And the odd cohabitation has generated a flurry of lawsuits in recent years, making it logical for Apple to seek out another supplier that could satisfy its vast appetite for chips.
Samsung doesn't plan on going quietly into that good night. The company is spending about $4 billion to upgrade its chip plants in Austin, Texas to the 28-nanometer standard. With several other suppliers getting into the game too, you have the look of a good, old fashioned chip fight shaping up. And judging by the answer that Morris Chang, Taiwan Semiconductor's chairman, gave to an analyst's question today, TSMC is spoiling for one:
Can I say something about competitors in general, the advanced technology competitors? Well, you know who they are as well as I do. So I think every one of them is a formidable competitor, but I also think that we are ready to tackle, to fight every one of them, as we have always been ready to fight every new competitor.